Most Reliable New Cars: 2020 Models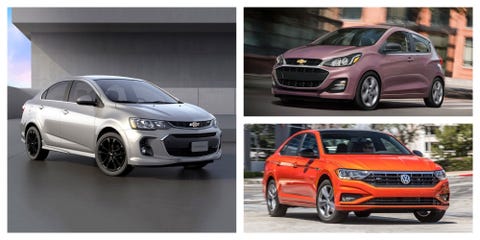 Car and Driver
As SUVs get smaller, their sales numbers grow. Buyers are gobbling up these new breed of cute utes faster than automakers can dream them up and pump them out. As a result, compact crossovers are pushing small cars from the marketplace.
It's an unfortunate reality. Generally speaking, small cars are still the most affordable and the most fuel-efficient way to get around. They also squeeze into tight urban landscapes better than any crossover, and the right one can be more fun to drive. You'll want one you can count on, too. According to JD Power's recent Initial Quality Study (IQS), these 10 have the fewest reported problems in the first 90 days of ownership.
Advertisement – Continue Reading Below
10. Honda Fit
Introduced in the U.S. for 2007, Honda's Fit will be discontinued after the 2020 model year. Perennially one of the more entertaining cars in the sub-compact class, the small five-door hatchback also offers the most people and cargo space thanks to its excellent packaging and "magic" rear-seat, which flips up as well as folds flat.
This year, the front-wheel drive Honda Fit is available in four trim levels: LX, Sport, EX, and EX-L, with prices starting right around $17,000. A factory-installed navigation system is no longer offered, but three of the four trim levels have standard Apple CarPlay and Android Auto integration. Under the hood is a lively 130-hp 1.5-liter four-cylinder engine, paired with either a six-speed manual transmission or a continuously variable (CVT) automatic (which drops the horsepower to 128). With the CVT fuel economy estimates are 33 mpg city and 40 mpg on the highway, which are among the highest in its class.
9. Mitsubishi Mirage
With prices starting around $15,000, Mitsubishi's smallest vehicle is one of the most affordable new cars on the market. Only the Chevy Spark costs less. Though the Mirage lacks power, refinement, and certain key driver-assistance features, it does offer impressive interior space, solid warranty coverage, strong fuel economy, and, according to owners surveyed by JD Power, excellent initial quality.
Available as a four-door sedan and five-door hatchback, the Mirage is powered by a noisy 1.2-liter three-cylinder engine that makes just 78 horsepower. That's light, even for this class. In our testing, zero to 60 mph takes nearly 13 seconds. ES, LE, SE, and GT trim levels are offered, and most include a CVT automatic transmission, though a five-speed manual is standard on the ES. EPA fuel economy estimates with the CVT are 36 mpg city and 43 mpg highway. This year, Mitsubishi made an automatic climate control system standard on all models.
8. Nissan Sentra
One of the largest small cars on this list, the Nissan Sentra is all-new for the 2020 model year and the compact sedan has improved its game. Sharp new bodywork, which imitates the brand's larger Altima and Maxima models, gives the Sentra the look of something more expensive than it is. A redesigned interior features higher-quality materials and finer details. There's more cabin space as well, along with more standard technology and a longer list of driver-assistance features.
A new platform and suspension have improved ride quality and handling and its new engine, a naturally aspirated 2.0-liter four-cylinder, is more powerful, and delivers better fuel economy, 29 mpg city and 39 mpg highway. With 149 horsepower and a standard CVT automatic, this front driver is still one of the slower cars in its class, reaching 60 mph in 9.2 seconds, but its price is right, and according to owners surveyed by JD Power, the quality is there. The Sentra's base price is just over $20,000.
7. Chevrolet Spark
The Chevy Spark is GM's smallest model and the least expensive new car in America. The tiny five-door hatchback isn't exactly lust worthy, but it's a strong value, offers high quality and drives better than a $14,000 car should. With its 98-hp four-cylinder and the optional CVT automatic, it's also a rocket ship compared to its rival, the Mitsubishi Mirage. In our testing, the front-wheel drive Spark reached 60 mph in 10.7 seconds, and it's probably a bit quicker with the five-speed manual, which is available on all trim levels.
Unfortunately it also requires 7.6 seconds to go from 50 to 70 mph. When merging onto a highway, full throttle isn't suggested, it's required. With the CVT, its fuel economy ratings of 29 mpg city and 38 mpg highway are also a bit disappointing for such a small vehicle. Inside, a large 7.0-inch touchscreen is standard, along with Apple CarPlay and Android Auto integration.
6. Volkswagen Jetta
The Volkswagen Jetta is consistently popular with buyers looking for upscale style and features on a budget. The compact four-door has base price below $20,000 and there are many models to choose from, all featuring turbocharged engines and well-equipped cabins. For 2020 every Jetta gets the latest version of VW's infotainment system, which includes a subscription-based Wi-Fi hotspot. The SE and R-Line models now offer a heated steering wheel and heated rear seats, while the top-tier SEL and SEL Premium get standard wireless smartphone charging.
Most models are powered by a responsive 147-hp turbocharged 1.4-liter four-cylinder, while the sportiest of the bunch, the Jetta GLI, which found a spot on out 10Best list, gets the 228-hp turbocharged 2.0-liter four-cylinder and seven-speed dual-clutch automatic from the Golf GTI. A six-speed manual is also available. Fuel economy ratings with the base engine and the eight-speed automatic are impressive at 30 mpg in the city and 40 mpg highway.
5. Hyundai Elantra
Hyundai is already whipping out its all-new 2021 Hyundai Elantra, which features sleek new bodywork and an increase of interior space. The 2020 Elantra is still available, and it's still desirable, but its shelf life is almost up.
A compact, the 2020 Elantra sedan comes in SE, SEL, Value Edition, Eco, Limited, and Sport trim levels. Most are powered by a 147-hp 2.0-liter four-cylinder and this year Hyundai ditched its conventional automatic for a CVT. The change increases its combined and city EPA fuel-economy ratings by 2 mpg, while its highway figure goes up by three. The turbocharged Eco model is now more fuel-efficient as well. A new stop-start system bumps its fuel-economy 1 mpg across its EPA ratings. Overall, the Elantra's EPA fuel-economy ratings are among the best of all compacts, with several trims rated at 40 mpg or higher on the highway.
For more sport and cargo space, the five-door Elantra hatchback is packing 201 turbocharged horsepower. All 2020 Elantras come standard with automated emergency braking, lane-keeping assistance, and dual-zone automatic climate control, which is one of the reasons the model stands out as a bargain.
4. Kia Rio
The Kia Rio has more standard features as well as a new engine and transmission this year. Kia has replaced its 130-hp 1.6-liter four-cylinder and six-speed automatic with an all-new 120-hp 1.6-liter four and a CVT automatic. Its power may have decreased, but its fuel efficiency has shot way up. Its EPA ratings are now 33 mpg city and 41 mpg highway, which are up by 5 and 4 mpg, respectively.
The sharp looking Rio is available in two body styles, a four-door sedan and five-door hatchback. Rio sedans are available in LX and S trim levels, while every hatchback is in the S trim. Both offer a refined ride, agile handling, and a charming interior. Prices start below $17,000 and every model now has a 7.0-inch touchscreen with Apple CarPlay and Android Auto capability. The S model adds a center armrest, cruise control, a rear USB outlet, split-folding rear seat with adjustable headrests, and keyless entry but only costs about $700 more.
3. Kia Forte
Kia and Hyundai are part of the same company, and the compact Forte shares its chassis and powertrains with the similarly sized Hyundai Elantra. The two are even built on the same assembly line, but it's the Kia that gets the higher initial quality rating.
Redesigned last year, we've praised the 2020 Forte sedan for its low price, great fuel economy, and long list of standard features. For 2020, it's available in FE, LXS, GT-Line, EX and the new GT trim levels, but unlike the Elantra, it isn't offered as a hatchback. Most Fortes have the same 147-hp 2.0-liter four-cylinder and CVT automatic as most Elantras, however the base FE also offers a six-speed manual. At our test track, with the CVT, the Forte required 8.2 seconds to reach 60 mph. Not bad for this class.
A mechanical twin to the Elentra GT and N Line, the Forte GT gets the same 201-hp turbocharged 1.6-liter four-cylinder and either a six-speed manual or seven-speed dual-clutch automatic. The GT-Line has the looks of the high-performance GT model but is without the turbocharged engine and suspension upgrades.
2. Hyundai Accent
Hyundai's smallest sedan, the Accent, is built on the same assembly line and uses the same chassis and powertrains as the Kia Rio. But this time it's the Hyundai with the better initial quality rating.
Unlike the Rio, the Accent is available in just one body style, a four-door sedan. Three trim levels are available, SE, SEL and Limited. They're all powered by the same 120-hp 1.6-liter four-cylinder, which trades peak horsepower for fuel efficiency. The SEL and Limited come standard with the CVT automatic, while the base Accent SE offers a six-speed manual or the CVT. Its base price of just over $16,000 is with the manual.
With the automatic the small sedan has EPA estimates of 33 mpg city and 41 mpg highway, and the lightweight Accent is fun to drive. It feels lively and it's easy to pitch it into corners. Its suspension also smooths out rough roads adequately and the Insurance Institute for Highway Safety named it a Top Safety Pick.
1. Chevrolet Sonic
The 2020 Chevrolet Sonic has the best initial quality of any small car you can buy according to JD Power. We've also praised the Sonic for its spunky turbocharged engine, standard 4G LTE Wi-Fi connectivity and ample storage space. But the Sonic won't be around much longer, Chevy will discontinue it at the end of the 2020 model year.
Available as a four-door sedan and five-door hatchback the Sonic is offered in LS, LT, and Premier trim levels. Front-wheel drive is standard and the entire line up is powered by a 138-hp turbocharged 1.4-liter four-cylinder paired with a six-speed automatic. It's a responsive combination; the Sonic recorded a zero-to-60-mph time of 8.5 seconds at our test track, but it's thirsty for this class. We managed just 31 mpg in our 200-mile highway fuel economy test, 3 mpg lower than its EPA estimate.
It's interior is surprisingly quiet and well equipped for its $17,595 base price. A 7.0-inch infotainment screen is standard, along with a 4G LTE Wi-Fi hotspot, Apple CarPlay and Android Auto integration.
This content is created and maintained by a third party, and imported onto this page to help users provide their email addresses. You may be able to find more information about this and similar content at piano.io
Advertisement – Continue Reading Below