Here's Every New Electric Vehicle Model for Sale in the U.S.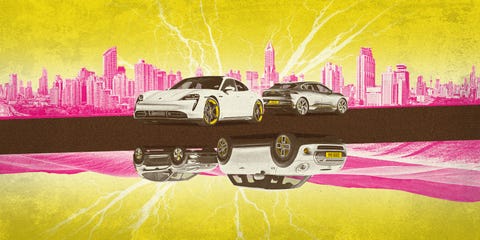 Ryan OlbryshCar and Driver
Electric vehicles make up a small percentage of the total automotive market today, but their appeal continues to grow as the automakers expand their range, performance, and style—and as recharging becomes quicker and easier. Shoppers looking for zero-emissions driving now have an expansive list of vehicles to choose from, with a wide variety of body styles and several different price points. To make it easy on you, we've compiled them all in one place and listed them in order of their combined MPGe ratings from the EPA. We've also included each one's city and highway figures, too, for good measure. MPGe is a calculation of an electric vehicle's efficiency, much like the miles-per-gallon rating of any conventional gas- or diesel-powered car, truck, or SUV. But a higher MPGe rating doesn't always equate to a class-leading range figure. We've provided both of these numbers so you can choose the best EV for your family, lifestyle, and driving habits. Please note that this list includes only those EVs that draw their power from the country's electrical power grid, which means it won't have the market's fuel-cell cars that propel themselves with electricity but are fueled by hydrogen.
Jaguar I-Pace — 76 MPGe
Jaguar's first electric vehicle is now in its second year of sales. The I-Pace competes with the Tesla Model X but costs considerably less. Audi offers three trim levels—S, SE, and HSE—and they all get the same 90.0-kWh lithium-ion battery pack and two electric motors, producing a heady 394 horsepower and 512 pound-feet of torque. All-wheel drive is standard. Although the Jag's 76-MPGe rating isn't much to brag about, its 234-mile range is respectable. That it can hit 60 mph in less than five seconds makes it one of the quickest EVs out there. It's also family friendly, with seating for five, 25 cubic feet of rear cargo space, and a small front trunk.
Base price: $70,875
EPA fuel economy, combined/city/highway: 76/80/72 MPGe
EPA combined range: 234 miles
MORE I-PACE SPECS
Audi e-tron Sportback — 77 MPGe
The Audi e-tron Sportback is a sharper version of the larger standard e-tron, that's been carved into something sleeker. The five-passenger two-row electric SUV is heavyset, hitting the scales at 5819, almost 100 pounds heaver than our long-term Ram 1500, but it's quicker. A 5.1-second zero-to-60-mph is possible from it's 402-hp combined output from both motors. Much of that weight is obviously in the 86.5-kWh lithium-ion battery pack. The e-tron Sportback's EPA-estimates are slightly under the standard version, with an estimated range of 222 miles on a single charge. There's also an available towing package that allows either e-tron 4000-pounds of maximum towing.
Base price: $66,995
EPA fuel economy, combined/city/highway: 77/76/78 MPGe
EPA combined range: 218 miles
MORE E-TRON SPORTBACK
Audi e-tron — 78 MPGe
Audi's five-passenger electric SUV has a second version, the standard e-tron, with broader shoulders allowing for more cargo space. It's nine inches longer than the Q5. A sizable 95.3-kWh lithium-ion battery pack and two electric motors generate a combined 355 horsepower and 414 pound-feet of torque. Put the transmission in Sport mode, though, and output jumps to 402 horsepower and 490 pound-feet briefly. All-wheel drive is standard. Unfortunately, the Audi's 78-MPGe rating and 222 miles of range aren't that impressive, but it can hit 60 mph in a claimed 5.5 seconds, so it's quick as well as comfortable. There's also plenty of rear cargo space and a small trunk up front.
Base price: $66,995
EPA fuel economy, combined/city/highway: 78/78/77 MPGe
EPA combined range: 222 miles
MORE E-TRON SPECS
Porsche Taycan — 79 MPGe (tie)
After years of teasing, Porsche's new Taycan (pronounced TIE-kahn, not TAY-can) is the brand's first EV as well as the market's first true head-to-head rival for the popular Tesla Model S. The four-seat sedan is also the most expensive and least efficient car on this list, but its desirability is off the charts thanks to extreme performance, sexy design, and a luxurious interior. Currently, every Taycan features all-wheel drive and two powerful electric motors. Porsche offers three models—the 522-hp 4S, the 670-hp Turbo, and the 750-hp Turbo S—but don't let those names throw you. The Turbo and Turbo S aren't actually turbocharged like the brand's gas-powered models, such as the Panamera Turbo and 911 Turbo S. Again, every Taycan is strictly battery powered. The Taycan 4S has an EPA-rated range of 222 miles, while the Turbo and Turbo S offer a little less.
Base price: $105,150 (Taycan 4S)
EPA fuel economy, combined/city/highway: 79/79/80 MPGe
EPA combined range: 222 miles
MORE TAYCAN SPECS
Volvo XC40 Recharge — 79 MPGe (tie)
Not only is the Volvo XC40 Recharge Volvo's first fully-electric vehicle, it's also an all-wheel drive compact crossover with two motors that produce a combined output of 402 horsepower. Volvo claims it can do a zero-to-60-mph launch in 4.7 seconds. A 75-kWh battery pack provides those motors with the juice, and keeps this peppy electric crossover with an EPA-estimated 208 miles of total range. Thanks to a frunk cargo area the XC40 Recharge has more spaces to store things versus to the gas-powered XC40 with 20 cubic feet of storage behind the second row. When compared to other models with similar range, like the Audi e-tron and Jaguar I-Pace, the XC40 is a much more affordable option.
Base price: $55,085
EPA fuel economy, combined/city/highway: 79/85/72 MPGe
EPA combined range: 208 miles
MORE XC40 RECHARGE SPECS
Polestar 2 — 92 MPGe
The Polestar 2 looks more ordinary than insane, which was sort of the whole point behind the company's first EV, and sort of the whole style of minimalistic Scandinavian design. On the inside however, things are hardly normal. The standard Polestar 2's guts are vegan—no, seriously. No animal products were used to make it. The Polestar 2 is the first car to use Google's Android operating system, so its 11.2-inch infotainment touchscreen should look especially familiar to those with Pixel smartphones. Its minimalist looks highlight its varsity athlete performance. The 2 can get to 60 mph in just 4.1 seconds, a tenth-of-second behind our long-term Tesla Model 3. During our real-world highway-range test, the 2 could only last 190 miles before it's battery went empty, putting it behind the Model 3 once again. It's a fun stylish EV, but where it exceeds in driving and modern tech, it lacks in overall battery range.
Base price: $61,200
EPA fuel economy, combined/city/highway: 92/96/88 MPGe
EPA combined range: 233 miles
MORE POLESTAR 2 INFO
Tesla Model X — 96 MPGe
This is the largest and most expensive SUV on this list. It's also the only seven-seater. Famous for its dramatic falcon-wing back doors, the Tesla Model X has been around for five years now, and it hasn't changed much in that time. Tesla is currently advertising two trim levels: the Long Range Plus and the Performance. Both feature all-wheel drive and two electric motors, and they boast more than 300 miles of range. An industry-leading infotainment system, the largest touchscreen in the business, and breathtaking acceleration are also part of the Model X's appeal. Tesla says the Long Range Plus will hit 60 mph in 4.4 seconds, while the Performance will snap your neck with a time of just 2.6 seconds. Only the Porsche Taycan and Tesla's own Model S sedan can keep up with the X.
Base price: $86,190
EPA fuel economy, combined/city/highway: 96/99/93 MPGe
EPA combined range: 328 miles
MORE MODEL X SPECS
Volkswagen ID.4 — 97 MPGe
Volkswagen wants to sell one million EVs by 2023, and the ID.4 is where they'll start in the U.S. 1st Edition ID.4 models are already sold out. They come with 20-inch wheels, a 12.0-inch infotainment touchscreen, and a rear-mounted motor that makes 201 horsepower. The ID.4 Pro is the starting trim, with the same standard rear-drive motor as the 1st Edition. A 302-hp dual-motor all-wheel-drive drivetrain is coming later in 2021 for $3601 more. The EPA estimates the ID.4's 82kWh battery pack can power it 250 miles between charges, putting it near other SUVs like the Kona Electric and Mustang Mach-E.
Base price: $41,190
EPA fuel economy, combined/city/highway: 97/104/89 MPGe
EPA combined range: 250 miles
MORE MODEL X SPECS
Ford Mustang Mach-E — 100 MPGe
Just because it doesn't have the growl of Mustangs before it, doesn't mean the Ford Mustang Mach-E can't run wild. The upcoming GT Performance Edition has 634 ft-lbs of torque, nine more than the 760-hp supercharged V-8 Shelby Mustang GT500. During our testing with the dual-motor 346-hp Mach-E Premium AWD, we hit 60 mph in just 5.1 seconds, putting it just a tenth-of-a-second behind the Mustang 2.3L High Performance. So despite the dog and pony show about names, we'd say the word Mustang fits this EV well, and it's certainly wildly better looking than that thing they made in 1973. And for those keeping track, the 15.5-inch vertically oriented touchscreen is half an inch larger than the Tesla Model Y.
Base price: $43,995
EPA fuel economy, combined/city/highway: 100/105/93 MPGe
EPA combined range: 300 miles
MORE MUSTANG MACH-E SPECS
Mini Electric — 108 MPGe
Mini has been in and out of the EV business. This year, it's back in, with an updated version of its electrified Mini Cooper. The small front-wheel-drive hatchback is powered by a single electric motor mounted under its hood that generates 181 horsepower and 199 pound-feet of torque. The battery pack is under the floor, which gives the Electric a low center of gravity and preserves its cargo space. Three trim levels are offered with prices starting just over $30,000, but its 32.6-kWh battery pack is small, so range is limited to just 110 miles. Aside from radically styled asymmetric three-hole wheels—and, if you want, Energetic Yellow trim—it looks basically like every other Cooper, both inside and out. Mini even left the hood scoop in place. And it runs like a Mini, with athletic handling and a 60-mph sprint of about seven seconds.
Base price: $30,750
EPA fuel economy, combined/city/highway: 108/115/100 MPGe
EPA combined range: 110 miles
MORE COOPER ELECTRIC INFO
Nissan Leaf — 111 MPGe (tie)
Now in its second generation, the Nissan Leaf has never been very sexy, but the compact five-door hatchback has been around for decade, and it's one of the best-selling electric vehicles in the world. A full redesign last year toned down the model's clumsy styling and increased its range. Two versions are now offered: the basic Leaf, with a 40.0-kWh battery pack, and the Plus, which costs about $7000 more. The Plus gets a 62.0-kWh battery pack for radically more range and a more powerful electric motor for better acceleration. Range jumps from 149 miles to a very respectable 226. Both versions of the Leaf are front-wheel drive and offer spacious cabins and a long list of standard and optional technologies, but it's not as fun to drive as its main rival, the Chevrolet Bolt, nor can it go as far on charge.
Base price: $32,525
EPA fuel economy, combined/city/highway: 111/123/99 MPGe
EPA combined range: 149 miles (40 kW-hr Battery Pack)
MORE LEAF SPECS
Tesla Model S — 111 MPGe (tie)
There were EVs long before the Model S, but Tesla's sedanlike hatch is the vehicle that proved that an efficient, fast, and attractive electric will not only sell, it'll go for big money. Introduced way back in 2012, the Model S remains as appealing as ever, from its sleek muscular styling to its minimalistic interior. Its performance is still ahead of the industry that it dragged, kicking and screaming, into the EV business. Tesla has made improvements over the years, cranking up the hatchback's acceleration and range. Today, Tesla offers the Model S in either a Long Range Plus or a Performance trim. The latter will cost you $20,000 more. Both have all-wheel drive, two electric motors, and adjustable air suspension, and both are incredibly quick. Plus, the S offers the best range in the biz, up to 373 miles.
Base price: $81,190
EPA fuel economy, combined/city/highway: 111/115/107 MPGe
EPA combined range: 373 miles
MORE MODEL S SPECS
Kia Niro EV — 112 MPGe (tie)
Introduced just last year, the Kia Niro EV has flown largely under the radar. That's unfortunate, as it offers considerable range, space, and style for a fair price. Part hatchback, part crossover, the four-door front-wheel-drive Niro EV is powered by the same 201-hp motor and 64.0-kWh battery pack used in the Hyundai Kona Electric. It's quick, with a 60-mph time of 6.5 seconds, and feels solid on the road, but it isn't very sporty to drive. It's also offered in only 12 states. Two trim levels are available. The list of standard features is long and includes adaptive cruise control, lane-centering assist, blind-spot monitoring, automated emergency braking, keyless entry, and 17-inch wheels. For 2020, Kia updated the EV with new headlamps and larger infotainment screens.
Base price: $39,620
EPA fuel economy, combined/city/highway: 112/123/102 MPGe
EPA combined range: 239 miles
MORE NIRO EV SPECS
BMW i3 — 113 MPGe
Although introduced way back in 2015, the i3 remains BMW's only EV. The quirky four-door has always been unconventional, with funky styling, unique rear doors that open "suicide style," and a body made from carbon fiber. It's always been expensive, too. At more than $45,000, the i3 costs more than many rivals, but it offers only 153 miles of range, much less than what the cheaper Kia Niro EV, Chevy Bolt EV, Hyundai Kona Electric, and Tesla Model 3 can cover on a charge. Buyers can choose between the base i3 and the slightly sportier i3s, which gets standard 20-inch wheels and a more responsive suspension. Both are rear-wheel drive, which is unusual for an EV, and powered by a single 184-hp electric motor and a 33.2-kWh lithium-ion battery pack. In the base car, the run to 60 mph takes 6.6 seconds.
Base price: $45,445
EPA fuel economy, combined/city/highway: 113/124/102 MPGe
EPA combined range: 153 miles
MORE I3 SPECS
Chevrolet Bolt EV — 118 MPGe
When the Chevy Bolt debuted back in 2016 with a range of 238 miles and a price below $40,000, the front-wheel-drive hatch seemed like the electric revolution most Americans were waiting for. Unfortunately, its homely little hatchback body turned many people off. This year, Chevy updated the Bolt's lithium-ion battery pack that's mounted under its floor, upping the energy density of the cells, and increasing its capacity from 60.0 kilowatt-hours to 66.0. According to the EPA, these changes have expanded its range by 21 miles, for a total of 259 miles. That's more than a Tesla Model 3 Short Range Plus has to offer, and the Bolt's 200-hp motor provides respectable thrust, with a 60-mph time of 6.7 seconds. We also like the Bolt's airy interior and decent 17 cubic feet of cargo space.
Base price: $37,495
EPA fuel economy, combined/city/highway: 118/127/108 MPGe
EPA combined range: 259 miles
MORE BOLT EV SPECS
Hyundai Kona Electric — 120 MPGe
This is one of our favorite EVs. We were so impressed with the Hyundai Kona Electric that the compact crossover grabbed a spot on our 10Best Trucks and SUVs list its first year on the market. With spunky driving dynamics, impressive driving range, a generous warranty, a spacious interior, and attractive styling, the Kona checks all the boxes. Plus, it's competitively priced, offering an EPA-rated range of 258 miles on a single charge for less than $40,000. If you were hoping for all-wheel drive, however, you're out of luck. It isn't offered on the Kona Electric. A 64.0-kWh battery pack feeds a 201-hp electric motor, which drives the front wheels. At the test track, the Hyundai hit 60 mph in 6.4 seconds, 0.2 second quicker than the regular Kona.
Base price: $38,330
EPA fuel economy, combined/city/highway: 120/132/108 MPGe
EPA combined range: 258 miles
MORE KONA ELECTRIC SPECS
Tesla Model Y — 125 MPGe
The Tesla Model Y is basically a crossover version of the Model 3, but don't let its looks fool you. It's larger than it appears. At 187 inches long, the Y is about five inches longer than a Honda CR-V and nearly three inches wider, but it sits more than two inches lower than that mainstream crossover. Its rounded design is right out of Tesla's playbook, sort of a cross between the Model 3 and the Model X. It is handsome and sure to be a wallet opener. We expect the market will embrace the Y's sub-$55,000 base price and 300-plus-mile range. Powertrains are shared with the Model 3. Tesla promises a rear-wheel-drive Standard Range model for next year. For now, though, there are two all-wheel-drive models on offer: the Long Range (which awaits its EPA ratings) and the Performance. Both feature two electric motors, and Tesla says the latter can hit 60 mph in 3.5 seconds.
Base price: $62,190
EPA fuel economy, combined/city/highway: 125/131/117 MPGe
EPA combined range: 326 miles (Long Range AWD)
MORE MODEL Y SPECS
Hyundai Ioniq Electric — 133 MPGe
The Hyundai Ioniq Electric hatchback is about the size of a Toyota Prius. Sold in only a handful of states, the all-electric version costs about $34,000 and has an impressive combined fuel-economy rating of 133 MPGe, but its battery pack is small, and its range falls near the bottom of current EV offerings. This year, the Ioniq's battery capacity increases from 28.0 kilowatt-hours to 38.3. This has expanded the car's driving range from just 124 miles to a more respectable 170 miles. The Ioniq's horsepower also increases from 118 to 134, but the powertrain's refinement could perhaps be better. To entice new buyers, Hyundai has recently given the spritely front-wheel-drive hatchback a mild styling update, a larger infotainment touchscreen, and more active safety features, including adaptive cruise control and automated emergency braking.
Base price: $34,020
EPA fuel economy, combined/city/highway: 133/145/121 MPGe
EPA combined range: 170 miles
MORE IONIQ ELECTRIC SPECS
Tesla Model 3 — 134 MPGe
Regardless of how you feel about Elon Musk or Tesla products, there's no denying the sales success of the Model 3. Introduced a few years ago, the brand's least expensive model was one of the most anticipated cars of the decade, promising huge EV range for about $40,000. Today, they're everywhere, and it's easy to understand the appeal. The Model 3 is a quick sharp-handling sedan with attractive styling and enough interior space for your friends. It also offers the biggest range numbers and the lowest acceleration times for the money. Musk has delivered the bang for the buck. The rear-wheel-drive Standard Range Plus model with its 250 miles of range has proven exceedingly popular, while the all-wheel-drive Long Range and Performance models offer 322 miles of range and 60-mph acceleration as quick as 3.2 seconds.
Base price: $41,190
EPA fuel economy, combined/city/highway: 134/141/127 MPGe
EPA combined range: 353 miles (Long Range AWD)
MORE MODEL 3 SPECS
This content is created and maintained by a third party, and imported onto this page to help users provide their email addresses. You may be able to find more information about this and similar content at piano.io