Five Upcoming Mercedes EQ Electric Sedans, SUVs Previewed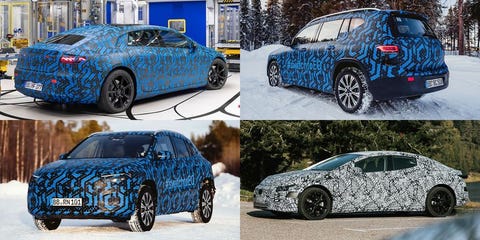 Mercedes-BenzCar and Driver
Mercedes-Benz has a full lineup of electric vehicles rolling out over the next few years, and the German automaker has released a few more details about the coming EQ models, including when they'll go into production. The electric EQ models will be parallel to the automaker's conventional gas-powered lineup with electric versions of the A- to S-class and everything in between—even an electric G-wagen is coming. Here's what we know about when some of them will arrive:
EQ Lineup Confirmed
Mercedes-Benz EQS (On Sale Summer 2021)
We've already seen camouflaged photos of the EQS sedan, which is the electric counterpart to Mercedes-Benz's flagship S-class sedan. Mercedes has also previously announced that the EQS electric sedan will take the EQC SUV's place as the first EQ model to be sold in the U.S. It'll be unveiled in the spring of 2021 and start production soon afterward, with deliveries to start in the summer, Mercedes says.
Read More
Mercedes-Benz EQA (January 20 Debut, 2021 Production)
The EQA is the electric counterpart to the GLA-class crossover, and as with the other upcoming vehicles on this list, we've only seen a camouflaged version of the car. Mercedes has announced that it will be unveiled on January 20, 2021, and it will head to production shortly after that at Benz's plant in Rastatt, Germany.
Read More
Mercedes-Benz EQB (2021 Production)
Mercedes-Benz added the GLB-class crossover to its lineup in 2020, and it's a boxy sibling to the GLA-class. As the EQA is to the GLA, the EQB will be the electric sibling to the GLB. It will have squared-off proportions, and it's slated to go into production next year at Mercedes's plant in Kecskemét, Hungary.
Read More
Mercedes-Benz EQE (Late 2021 Production)
The EQE sedan is the EQ version of the popular E-class sedan, though slightly smaller, and Mercedes says it'll go into production in the second half of next year at its plant in Bremen, Germany.
Read More
Mercedes-Benz EQE SUV (2022 Production)
The EQE will also get an SUV model, which will be equivalent to the GLE-class SUV. The EQS will also get an SUV model, but we have yet to see it. Both SUVs will be built at Mercedes's Tuscaloosa, Alabama, plant starting in 2022.
Read More
This content is created and maintained by a third party, and imported onto this page to help users provide their email addresses. You may be able to find more information about this and similar content at piano.io