Experts Recommend These Vehicle Lifts for Your Home Garage or Shop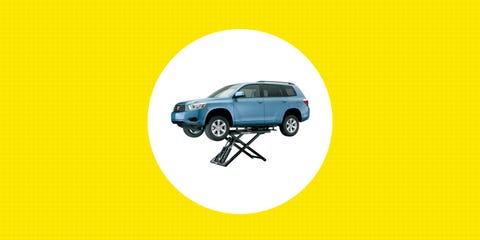 Autoweek
If you work on your car more than three or four times a year, it might be time to invest in a good vehicle lift. There are all kinds of styles depending on your work space, whether it's a home garage or a full-blown shop.
Lifts can save you precious time, helping get repairs done more quickly and efficiently. Even if you're working on a slow restoration or storing your pride and joy through the winter, lifts are a great option.
We talked to the experts at Forward Lift, a premier manufacturer of vehicular lifts based in Madison, Indiana. Along with their recommendations, we drew upon our own wrenching experiences to bring you our top choices. So forget jacks and stands; a lift will save you valuable time—and maybe even a visit to the chiropractor.
Floor Jacks to Fit Every Budget
---
Advertisement – Continue Reading Below
XPR-9S Two-Post Lift
bendpak
bendpak.com
$1,645.00
This excellent two-post lift from BendPak is the updated version of the XPR-9FX—the lift that's been doing duty in the Car and Driver garage for the past decade. The improved version boasts a 9000-pound lifting capacity and top-notch materials. Car and Driver loves the predecessor, and this current model follows in its father's footsteps. Or should we say armsteps?
Hydraulic Vehicle Ramp
This is a great option if you're on a low budget or have space constraints. Just drive up the ramp and lift the vehicle with the 4400-pound capacity bottle jack—perfect for inspections and oil changes. Make sure to chock the wheels to prevent the car from rolling.
Note: The shown price is for ONE single ramp, not a pair. We recommend getting two, for obvious reasons. 
Portable Car Lift
Yep, this lift is portable. Just stow it, fold it, and roll it to wherever you have room. The system is powered by its own hydraulic power unit that plugs right into any 110-volt outlet. The lift has a 7000-pound capacity, hits full rise in just 31 seconds, and comes with heavy-duty lock bars to keep it secure.
Mid-Rise Scissor Lift
Forward Lift
This mid-rise lift is a great choice for low-ceiling shops or home garages. The model shown has a 6000-pound capacity, is portable, and features two 110-volt power units, multiple lock positions, and truck adapters. The lift creates an ideal working height for tires, brakes, and body repairs. When you're done, just fold it down and park over it. 
Light-Duty Storage Lift
Forward Lift
This four-post storage lift boasts an 8000-pound capacity—perfect for the home enthusiast. The light-duty lift is ALI/ETL-certified with multi-position locks, allowing runways to be level at any position, and has a single-point lock release. Additional features include 110-volt operation, steel approach ramps, jack tray, wheel caster kit, and drip trays. If you need to store your car, this is the one to buy.
Mid-Rise 2-Post Car Lift
This lift is unique in terms of portability and usability. Once you get past the primary installation process, setting up and taking down the system is a breeze thanks to the wheeled posts. Like other mid-rise lifts, it's great for tires, brakes, and body work—but this offers a clearing under the car. The MaxJax lift comes with its own mobile power unit that plugs into any 110-volt outlet.
Two-Post Lift
Forward Lift
This professional two-post lift features frame-engaging rubber-padded truck adapters with multiple extensions to raise most vehicles on the road today with its 10,000-pound capacity. The lift comes equipped with three-stage front arms to accommodate vehicles both symmetrically and asymmetrically to position the car properly and prevent door damage. 
Four-Post Lift
Forward Lift
This four-post lift is designed to meet the service needs of cars, vans, and trucks with a beefy 14,000-pound capacity. Because of its taller column design, there is an added 79-inch rise height, and the heavy-duty, high-performance cable-and-sheaves system allows for greater capacity and dependability. The powder-coat finish ensures the lift will continue to look good for years of service.
This content is created and maintained by a third party, and imported onto this page to help users provide their email addresses. You may be able to find more information about this and similar content at piano.io
Advertisement – Continue Reading Below