Everything You Need to Know About USAA Car Insurance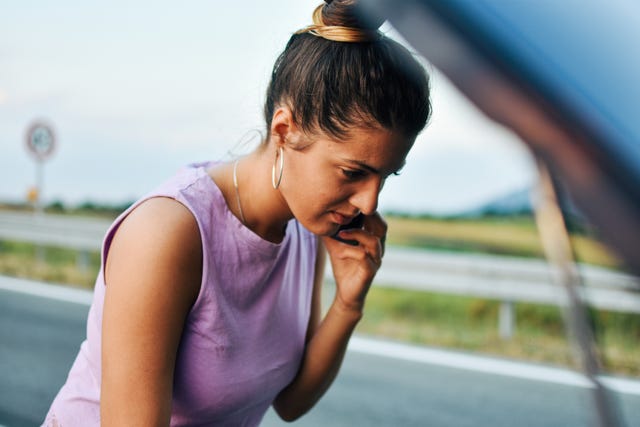 milorad kravicGetty Images
USAA car insurance rates are some of the lowest on the market. USAA was found to have the lowest representative rates among many other large insurers. The organization was founded in the 1920s by military members. They started with only 25 army officers intending to insure each other's vehicles and named their first president, William Garrison. This small group of ranked men would soon become one of the largest insurance providers in the nation. Down the road, USAA became not just an insurance company but a fully-fledged financial services organization.
USAA National Rates
To be eligible for USAA membership, you'll need to be an active, separated, or retired veteran or the family member of one, according to The Zebra. Military members who have served for the Army, Marines, Air Force, Navy, Coast Guard, Reserves, and National Guard are eligible.
Your monthly rates with USAA depend on several factors including, location, credit score, marital status, gender, driving record, age, and how often you drive.
Take a look at the average monthly rates by state per SmartFinancial:
Alaska: $88.40
Alabama: $111.41
Arkansas: $78.01
Arizona: $108.11
California: $163.83
Colorado: $101.41
Connecticut: $118.89
District of Columbia: $82.20
Delaware: $77.83
Georgia: $129.67
Hawaii: $86.05
Iowa: $73.26
Idaho: $56.48
Illinois: $117.50
Indiana: $65.89
Kansas: $90.60
Kentucky: $102.57
Louisiana: $157.92
Massachusetts: $119.67
Maryland: $135.62
Maine: $54.50
Michigan: $123.16
Minnesota: $97.70
Missouri: $68.83
Mississippi: $78.52
Montana: $78.48
North Dakota: $63.73
Nebraska: $90.44
New Mexico: $93.16
Nevada: $134.61
New York: $199.89
Ohio: $67.57
Oklahoma: $111.76
Oregon: $82.02
Pennsylvania: $94.02
Rhode Island: $112.61
South Carolina: $100.33
Tennessee: $83.16
Texas: $122.92
Utah: $80.76
Virginia: $88.38
Washington: $79.34
Wisconsin: $61.30
Wyoming: $102.48
USNews found the national USAA annual rates by driving record are:
No violations: $884.69
Speeding ticket: $1040.78
At-fault accident: $1228.98
DUI: $1683.36
These are annual USAA rates by marital status, age, and gender:
Single female, 25 years old: $1037.67
Single male, 25 years old: $1094.44
Married female, 35 years old: $823.10
Married male, 35-years old: $817.91
Married female, 60 years old: $767.97
Married male 60 years old: $767.08
These are the annual rates for different coverage levels:
Low level coverage: $829.82
Mid level coverage: $884.69
High level coverage: $939.52
Check out the annual rates by credit score below:
Good: $869.53
Fair: $1041.64
Poor: $1653.19
USAA Coverage Options
USAA has many great coverage options for insuring your vehicle according to NerdWallet. These include:
Bodily Injury Liability: This coverage protects another driver and its passengers when you are considered at-fault for an accident.
Uninsured and Underinsured Motorist: This type of insurance covers you when the at-fault driver doesn't have insurance or their insurance is insufficient.
Comprehensive Coverage: Comprehensive coverage pays for repair and replacement when your vehicle was damaged by an event considered out of the driver's control such as weather, theft, vandalism, or striking an animal on the roadway.
Collision Coverage: This insurance is subject to a deductible and covers the cost of repair and replacement when you collide with another vehicle or a static object such as a tree or curb.
Roadside Assistance: This optional coverage reimburses the policyholder for locksmiths, refueling, and towing.
Rideshare Insurance: Rideshare insurance is an optional coverage for those who drive for rideshare companies such as Uber or Lyft. Rideshare companies only pay for liability coverage during certain times in the ride. This coverage will protect you throughout the entire ride.
Accident Forgiveness: With this coverage, your first accident won't cause your insurance premiums to go up. You'll need to have no at-fault accidents in the prior five years to qualify for accident forgiveness.
Rental Reimbursement: This coverage reimburses the cost of a rental vehicle when yours is in the shop for more than 24 hours.
Property Damage Liability: This insurance covers damage to a third party's property when you are at-fault for an accident.
Personal Injury Protection: Regardless of who is at fault in an accident, this coverage will cover your medical costs, loss of services, child care, and funeral expenses.
Car Replacement Assistance: This coverage pays 20 percent on top of your vehicle's actual cash value when your car is totaled. You need to have comprehensive and collision coverage to qualify.
Glass coverage: This coverage pays for windshield and window repair.
GAP insurance: If you have financed your vehicle, GAP insurance will pay off the difference between what you owe and the actual cash value of your vehicle after it's totaled.
USAA Discounts
USAA offers its policyholders serval discounts that you may be able to take advantage of. According to ValuePenguin, some of these discounts are:
Military Installation: If you park your vehicle on a military base you can lower your comprehensive premiums by 15 percent.
Annual Mileage: You can receive a discount if you drive a low number of miles per year. You must be over the age of 29 to qualify for this discount.
Driving Research: Drivers have the option of adding a plug-in device to their vehicle. This device tracks their driving habits and aids in USAA's driving research program earning those in the program a possible 5 percent discount.
Premier Driver: If you maintain a good driving record for five years you will receive this discount and qualify for accident forgiveness.
Defensive Driving Course: Choosing to enroll in a defensive driving course can save you a substantial amount of money on your USAA insurance premiums.
Driver Training Course: Drivers under 21 can save money on their car insurance rates by taking a driver education course.
New Vehicle: You'll receive a discount if your vehicle is less than three years old.
Good Student: Full-time students with a GPA of 3.0 or higher can earn a discount. Additionally, those on their school's academic achievement list can earn higher discounts.
Family Discount: Policyholders whose family member is also a member of USAA can get a discounted rate for their car insurance.
Automatic Payments: Save up to three percent by scheduling automatic payments.
Multi-vehicle Discount: Drivers with more than one vehicle on their policy can earn discounted rates.
USAA has been a top source of car insurance for almost 100 years. USAA offers free instant quotes online. Go on your local USAA website and get your insurance quote started now!
Check this out if you need additional information, resources, or guidance on car insurance.
Sources:
Car Insurance
USAA Car Insurance Review for 2021
USAA Auto & Home Insurance Review
USAA Reviews, Coverage Options, and Ratings
How Much Is Car Insurance for a 21-Year-Old?
What You Need to Know About Arizona Minimum Car Insurance
This content is created and maintained by a third party, and imported onto this page to help users provide their email addresses. You may be able to find more information about this and similar content at piano.io