Everything You Need to Know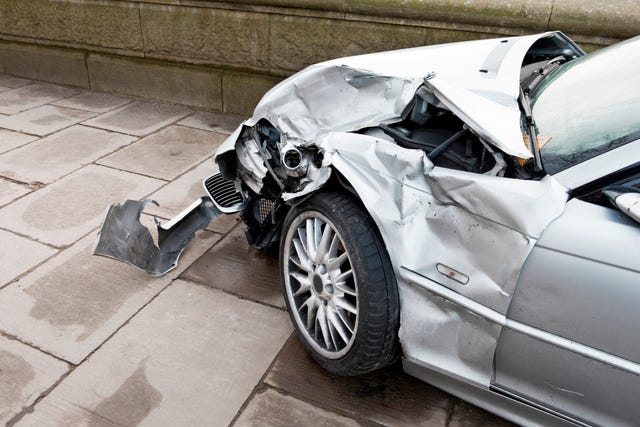 Peter DazeleyGetty Images
Almost all states in the United States require motorists to carry some type of car insurance. You may have heard about liability vs. full coverage insurance and wonder what the difference is and which one you need. Depending on the state's policies, the minimum type of coverage required is liability insurance that helps cover the cost of damage or injury you may cause during a car accident. Other states may require full-coverage auto insurance which includes liability insurance plus comprehensive and collision insurance.
Several factors come into play when deciding whether you need liability or full coverage car insurance. It's best to speak with your auto insurer to find the right policy for your situation.
What Is Liability Car Insurance?
If you cause a car accident and there's damage to the other car or someone is injured as a result of the accident, your liability insurance covers the cost of repairs to the car as well as medical bills for the injured parties. The higher your liability insurance coverage, the less chance you have of having to pay out of pocket for any of these expenses.
Because most states require you to carry at least the minimum amount of liability insurance, it's important to know what these minimums are. Check with your auto insurance provider and do some research on your own to find out what your state's minimums are.
The majority of states require liability insurance to cover three key aspects, bodily injury per person, total injury coverage per person, and total coverage of property damage per accident. The numbers are usually represented as the 25/50/25 rule. Some states require higher or lower numbers, but in general, and according to NerdWallet, most states require the following numbers for liability coverage:
$25,000 bodily injury liability per person
$50,000 bodily injury liability per accident
$25,000 property damage liability per accident
What Is Full Coverage Car Insurance?
While having full coverage car insurance gives you more protection than liability-only insurance, it may not cover every possible event associated with an accident. In general, full coverage insurance include liability coverage plus collision and comprehensive insurance.
Having collision insurance means that the insurer will normally pay for damage inflicted on your car when you're driving. Liability insurance only covers damage to someone else's car when you're the cause of the accident. Collision coverage includes damage incurred when you hit another car, object, such as a tree or fence, or if you accidentally drive off the road.
Comprehensive insurance provides coverage to your car and property for other damaging situations beyond an auto accident. Examples include:
A tree falling on your car during a storm.
Your car getting burned during a wildland fire.
Your car gets stolen.
You drive over a curb and damage your neighbor's fence.
You accidentally hit an animal that causes damage to your vehicle.
Without collision or comprehensive insurance coverage, you're responsible to pay out of pocket for any damages to your car or property.
What Types of Optional Car Insurance Coverage Can I Get?
Personal injury protection: Some states require motorists to carry personal injury protection. This type of insurance helps cover medical bills and other associated bills if you or your passengers get injured due to an accident you caused.
Uninsured/underinsured motorist protection: If an uninsured or underinsured driver causes damage to your car or personal injury to you or your passengers, having uninsured/underinsured motorist protection from your car insurance carrier will help to cover damage to your car as well as medical costs. Having this type of insurance coverage will also cover damage or personal injury if you become a victim of a hit-and-run incident.
Gap insurance: This is an important type of insurance to have if you still owe money on your car or are leasing it. If you're involved in an accident and your car gets declared a total loss, the gap insurance will cover the difference of what you still owe on the vehicle and its value at the time of the accident. Once your vehicle is paid off or you're no longer leasing a vehicle, gap insurance isn't necessary.
Rental car reimbursement: If your car is going to be in the shop for repairs and you need a rental car to get to and from work or school, add rental car reimbursement coverage to your policy. The cost is negligible for this coverage and it will cover a defined portion of the rental car per day cost up to a maximum number of days.
What Is Bodily Injury Coverage?
According to ValuePenguin, if you're at fault for a car accident and other people have injuries, bodily injury coverage will help to pay for the person's medical bills, depending on how much bodily injury coverage you have on your policy.
This type of coverage includes:
The maximum amount of money paid per person injured in an accident
The maximum amount of personal injury paid for the entire accident
In general, the amount of money paid for single-person bodily injuries is double the amount for the entire accident. For example, if your policy offers $25,000 per person bodily injury coverage, the coverage for the entire accident will be $50,000.
What Is Property Damage Liability Coverage?
If you're at fault for a car accident, property damage liability coverage will help to pay for other people's cars or property. This is an important part of your car insurance policy, however, it doesn't cover repairs to your car as collision coverage does. If you live in a state that doesn't require any type of car insurance, you'll be responsible to pay for any damage to your car, which can get quite expensive.
While liability insurance is cheaper, full coverage insurance, as well as add-on coverages, can give you peace of mind that the auto insurer will help to cover the cost of damage to your car as well as others. Take the time to shop car insurance companies to find the right policy that fits your budget.
Check this out if you need additional information, resources, or guidance on car insurance.
Sources:
Liability vs. Full-Coverage Car Insurance: Understanding the Difference
What Is Liability Car Insurance, and How Much Do You Need?
What Does Full Coverage Car Insurance Cover?
What Does Liability Car Insurance Cover?
Car Insurance
This content is created and maintained by a third party, and imported onto this page to help users provide their email addresses. You may be able to find more information about this and similar content at piano.io