Everything You Need to Know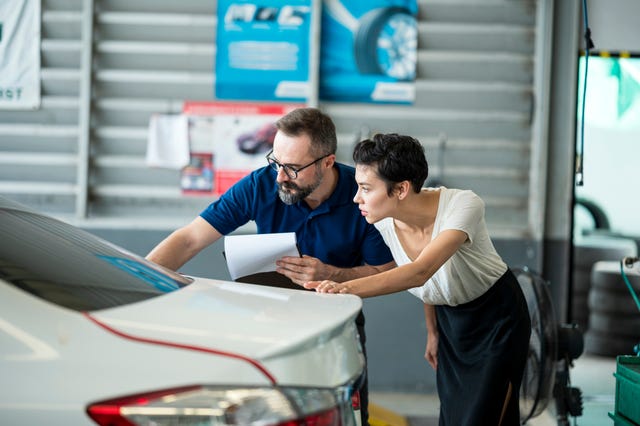 Nitat TermmeeGetty Images
When you're ready to buy a new car, you may need to transfer your insurance policy. This is a good time to re-evaluate your insurance coverage and compare quotes to ensure you're getting the best deal.
When to Transfer Car Insurance
If you are buying a new car, you will need proof of insurance before driving off the lot. However, if you already have insurance on your previous vehicle, then you may be able to transfer your policy. While some insurance companies do offer a grace period in which your new car is covered, this is not always the case. It is important to ensure that you are covered, even for a short period of time until you get home.
There are a few exceptions to needed proof of insurance. For example, if you are paying cash or your current insurance policy contains a clause that you have a grace period, you may not yet have to buy insurance. Chances are, if you have an auto loan, or you are leasing a vehicle, then you will be required to show proof of insurance before leaving with your vehicle.
Additionally, even if your new car is covered under a grace period, this only includes your current coverage. If you buy a vehicle that is worth more, you will only have insurance to cover your previous value.
Insurance Requirements When Buying a New Car
Car insurance is a requirement in each U.S. state, except New Hampshire. Most states require that you carry a minimum level of liability insurance. Liability insurance protects you in the event that you are in an accident and cause injuries to someone else. It is the minimum level of coverage and only covers the cost of damages you cause to someone else's vehicle. It does not cover your own damages or medical bills.
When you buy a car with a loan, they may require that you add on comprehensive and collision coverage. If you don't have proof of these additional coverages, you may not be able to take the vehicle home. Some lenders may give you a certain period of time to obtain your own coverage. If you don't buy insurance within this time frame, then they will usually buy it for you and add the cost to your payments.
What Other Types of Insurance Should I Consider?
Depending on the value of your vehicle, you might consider additional insurance, including:
Gap coverage: Gap insurance covers the difference between an insurance payout and how much you owe on your vehicle. Because insurance company's value your vehicle at its replacement cost minus depreciation, this may not always be the price you paid for it. This means if it is totaled, you could be left making payments, even if you don't have a vehicle.
Comprehensive coverage: Comprehensive insurance covers damages to your vehicle, regardless of the cause. This might include theft or vandalism.
Collision coverage: Collision insurance covers damages to your vehicle, regardless of who is at fault for the accident.
According to Zacks.com, gap insurance is especially important on a vehicle with a loan. Always consider how much coverage you need, especially when transferring your current policy. You may need additional coverage on your new vehicle. Buying a new car is the perfect opportunity to shop around and compare insurance rates.
How to Complete New Car Insurance Transfer
Most insurance companies allow you to transfer your policy. All you need to do is notify them that you are changing vehicles and they will provide you with a new quote. Depending on the details of your vehicle and your level of coverage, your premium may increase or decrease. The type of vehicle that you had before and its value related to the value of your new vehicle will also make a difference when it comes to rates.
Your insurance representative will need the following information to give you an accurate quote:
Vehicle identification number (VIN)
Safety features
Make and model of the vehicle
Year of the vehicle
Depending on the insurance company, they may divide an increase in rates between your monthly payments, or they may ask that you pay it upfront. Some may also charge an administrative fee for transferring the insurance. This cost is usually minimal but will vary from provider to provider.
According to Insurance.com, it may be more difficult to transfer insurance on the weekends, which is also when many people buy a new vehicle. If you plan to buy on the weekend, try to notify your insurance provider ahead of time. If you don't have time to, they may have a 24-hour hotline available.
How Much Can You Expect to Pay If You Transfer Car Insurance Companies?
There are many factors that go into calculating an insurance rate. While you may decide to choose a different provider for better rates, it is important to compare quotes first. Car insurance companies consider the following when calculating insurance rates:
Driving record
Credit report
Insurance history
Year and make of the vehicle
Safety record or equipment
Theft rates of your vehicle
Cost of repairs or replacement
It is best to notify your insurance representative that you plan on buying a new car and transferring insurance, as soon as possible, to prevent any unexpected increases. This also ensures that you have enough coverage for your new vehicle and gives you time to shop around, in case you aren't satisfied with your new rates.
You don't have to stay with your current provider even if you have already paid your policy in full. You can cancel it and choose a different provider. But, some providers do charge a cancellation fee. Always compare the cost savings between a cheaper rate elsewhere and any costs you may be liable for by canceling.
Transferring your car insurance is the easiest way to protect a new vehicle, but this does require that you notify your insurance company ahead of time. Depending on the cost, you may choose a different provider.
Check this out if you need additional information, resources, or guidance on car insurance.
Sources:
https://www.insurance.com/auto-insurance/auto-insurance-basics/how-to-transfer-old-auto-insurance-to-your-new-car.aspx
https://finance.zacks.com/transfer-auto-insurance-new-car-8149.html
https://www.caranddriver.com/car-insurance/a35865225/cost-for-comprehensive-car-insurance/
https://www.caranddriver.com/car-insurance/a35992404/shop-car-insurance/
This content is created and maintained by a third party, and imported onto this page to help users provide their email addresses. You may be able to find more information about this and similar content at piano.io