Everything You Need to Know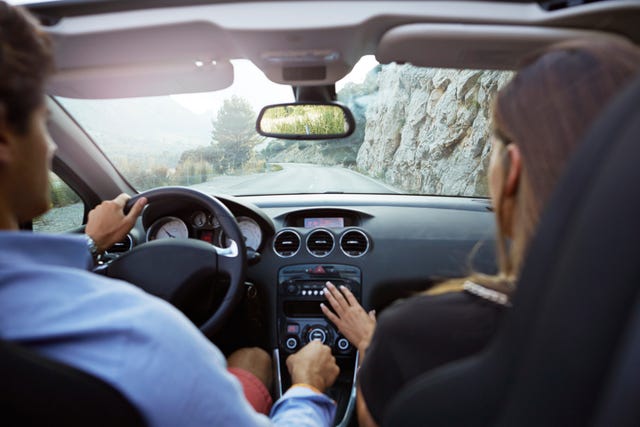 Klaus VedfeltGetty Images
If an insurance company classifies you as a high-risk driver, you might find it challenging to find affordable insurance. You may have to purchase a policy from a company specializing in high-risk insurance. High-risk insurance costs more than conventional insurance, but it may be your only option when it comes to meeting your state's insurance requirements.
Who Classifies as a High-Risk Driver?
There are several reasons why an insurance company might classify someone as a high-risk driver. High-risk drivers usually fall into the following categories:
Inexperienced Drivers: If you've been driving for less than 10 years, an insurance company is likely to classify you as a high-risk driver. As CarInsurance.com notes, some insurance companies might be willing to insure you, but they're likely to impose an inexperienced driver surcharge. This surcharge decreases for each year that you have your driver's license.
Young Drivers: Teen drivers pay the highest insurance rates of any age group for traditional insurance. They pay higher rates because data shows that they have the most accidents. Even teen drivers who have a clean driving record are charged higher rates simply because it's easier for insurance companies to "bucket" drivers by age group.
Drivers With Spotty Driving Records: While your insurance company might be willing to overlook a minor speeding ticket or fender bender, they can't ignore serious violations like DUIs, reckless driving, and multiple at-fault accidents. Drivers who engage in reckless driving behaviors typically repeat them, making them especially risky to insure.
Drivers Who Don't Have Insurance: If you have a driver's license, but you don't have insurance, a provider will assume that you're driving without insurance. This isn't just risky; in most states, it's illegal.
Drivers With Bad Credit: The data shows that drivers with low credit scores tend to file more insurance claims. That's why insurance companies consider them a risk and charge them much higher rates.
Nonstandard Insurance
If you're searching for car insurance as a high-risk driver, you may find yourself being turned down by traditional insurance companies. You might consider a nonstandard insurance policy. However, before you commit to a nonstandard policy, NerdWallet suggests you keep some things in mind.
With a standard policy, you can list other drivers who live in your household on your insurance policy, and they'll be covered by your policy when they drive your car. If you have visitors from out of town, they can borrow your car, and you don't have to list them on the policy. However, with a nonstandard policy, if you let someone who isn't listed on your policy borrow your car and they have an accident, the company can refuse to honor your claim. Most nonstandard insurance policies won't let you add drivers under the age of 25 to your policy.
NerdWallet also points out that your nonstandard insurance provider may reduce your coverage in certain circumstances. For example, if you let someone borrow your car and they're in an accident, your insurance company may not pay the full amount of liability coverage that they would pay if you were the one driving. You would have to pay out of pocket to make up the difference.
Unlike standard insurance, a nonstandard policy may not pay for the full cost of repairs if you have comprehensive or collision coverage. Again, you'll have to make up the difference out of pocket.
Companies That Cater to High-Risk Drivers
As The Zebra notes, the insurance market is quite competitive, even for a nonstandard policy. It's a good idea to gather quotes for a nonstandard policy in the same way you'd gather quotes for conventional car insurance. Companies that cater to high-risk drivers include:
The General.
Direct Auto Insurance.
Titan Insurance.
Dairyland Insurance.
GEICO Casualty.
Infinity Insurance.
SafeAuto Insurance.
GAINSCO Auto Insurance.
Bristol West Insurance.
Affirmative Insurance.
Alliance United Insurance.
United Automobile Insurance Company.
Access Auto Insurance.
Choosing the Right High-Risk Insurance Provider
Even when you're choosing a high-risk insurance provider, you want to look at more than just the price of a policy. NerdWallet suggests you evaluate the following:
Complaints: The National Association of Insurance Commissioners collects information on customer complaints from state insurance commissions and formulates a ratio to rate companies. The ratio is based on the number of complaints filed with and adjusted based on a company's market share. The national median is 1.0. Any company with a ratio higher than 1.7 has had an excessive amount of customer complaints lodged against them relative to the policies it has written over the year. You can also check your state insurance commissioner's website and read specific complaints.
Financial Strength: An insurance company's financial strength is a good indicator of its ability to pay a claim. A.M. Best gives companies a letter grade to indicate how financially strong they are. An A-rated company is a sure bet.
State-Assigned Risk Pools
As CarInsurance.com points out, joining a risk pool is the last resort. Many states require you to prove that you've been turned down by multiple insurance companies. After that, the state will assign you to a risk pool. Your pool is assigned to an insurance provider participating in the state's program. Remember, premiums in a risk pool are typically three times higher than the national average, and they only provide liability coverage.
How to Improve Your Driver Status
Eventually, you'll want to purchase a conventional insurance policy because you can't afford to carry a nonstandard insurance policy or participate in a risk pool forever. To qualify for conventional insurance, you'll have to move out of the high-risk category. The Zebra recommends you do the following:
Take a defensive driving course. Not only do insurance companies look favorably on drivers who take classes to improve their driving, but you'll learn better driving skills that will help you avoid accidents in the future. Plus, when you do get conventional insurance, your company may give you a defensive driver discount.
Improve your credit score. Improving your credit score can move you out of the high-risk category and save you money.
Wait for your violations to expire. Once your violations expire, you can apply for conventional insurance. Make sure to maintain your high-risk policy or risk pool policy in the meantime to avoid coverage gaps.
Remember, you don't have to stay in a high-risk driver category forever. By making an effort to improve your driving habits, you'll improve your status in no time.
Check this out if you need additional information, resources, or guidance on car insurance.
Sources:
The Best High-Risk Auto Insurance Companies
Best Car Insurance Companies for High-Risk Drivers & How to Lower Your Rates
The Best High-Risk Car Insurance Companies
Car Insurance
Car Insurance for Bad Drivers
What is Liability Only Car Insurance?
This content is created and maintained by a third party, and imported onto this page to help users provide their email addresses. You may be able to find more information about this and similar content at piano.io