Every New Car You Can Still Buy with a Manual Transmission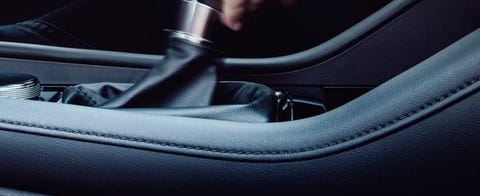 Roy RitchieCar and Driver
Before we start, a moment of silence for the stick-shift-equipped models we've lost recently. The list of discontinued three-pedal machines is depressingly long and includes the Fiat 124 Spider, Honda Fit, Toyota Yaris, Chevy Corvette (now only offered with a dual clutch automatic) and Ford's two Mustang Shelby GT350 models.
Chances are the manual transmission won't be with us much longer. It's a dying breed. Last year, sales of electric cars surpassed those with three pedals. But don't have your left foot removed just yet. There are still 27 new cars available in the United States with a manual gearbox. (A handful of sport-utes come with them, too, but we covered those in a separate list.) If you're after a row-it-yourself driving experience one of these cars should do the job.
Aston Martin Vantage
The first on the list is the Aston Martin Vantage. Although its turbocharged engines now come from Mercedes-AMG, a manufacturer that does not offer a manual transmission, Aston does offer its gorgeous "entry-level" Vantage with a seven-speed manual. The track-ready AMR performance variant even gets an unconventional dog-leg-pattern shifter behind the sports car's twin-turbo 4.0-liter V-8
BMW 2-Series and M2
You can whine all day about how BMWs aren't as sporty as they used to be, but the brand has the most cars on this list. Three-pedal driving is still alive and well at the Bayerische Motoren Werke. In the 2-Series you can specify a six-speed manual in the rear-drive 230i and M240i coupes, the M240i convertible, the M2 Competition, and the top-of-the-line M2 CS. The new 2-series Gran Coupe, however, is an automatic-only zone.
BMW M3
New year, new M3. Every BMW M3 since the original E30 has been available with a manual gearbox. Thankfully BMW has decided to keep that streak alive. Like its mechanical twin, the M4 Coupe, the high-performance sedan is also available with a six-speed manual. Two models are available, the standard 473-hp and the 503-hp M3 Competition.
BMW M4
Everyone has been focused on the funky new grille of the 2021 BMW 4-Series, and for good reason. But the 4-Series coupes and convertibles haven't just lost their classic good looks, they've also lost their third pedal. Last year BMW dropped the stick shift from the new 3-series, now the 4-Series is automatic only, with one exception. The 2021 M4 Coupe can be ordered with and a row-your-own six-speed behind its twin-turbo inline six, including the 503-hp M4 Competition.
Chevrolet Camaro
Chevy will no longer sell you a Corvette with a manual gearbox, but it still lets you rip gears in the Camaro. In fact, a six-speed manual is available in every variation of the rear-wheel drive muscle car, from the base 1LS with the turbo 2.0-liter all the way up to the fire-breathing ZL1 and ZL1 1LE with their supercharged 6.2-liter V-8.
Chevrolet Spark
With a base price just over $14,000, Chevy's pint-size hatchback is the cheapest new car available in the U.S. in 2021. The Spark is the GM's smallest car and it still comes standard with a five-speed manual. In fact, all four of its trim levels can with bought with the stick or a continuously variable automatic transmission (CVT), which costs an extra $400.
Dodge Challenger
Like its rivals the Ford Mustang and the Chevy Camaro, the Dodge Challenger is still offered with a manual gearbox. In fact, the Dodge is the only model Fiat Chrysler offers in the U.S. with a stick. Several versions of Mopar's muscle car come standard with a six-speed manual, including the R/T, R/T Scat Pack, the supercharged 700-plus-hp Hellcat and the Hellcat Widebody.
Ford Mustang
Though the Ford Mustang Shelby GT350 is dead and the Shelby GT500 is only available with a seven-speed dual-clutch automatic transmission, you can still get a stick in every other version of Ford's pony car, be it a fastback coupe or a convertible. A six-speed manual is available with the potent turbo-four, the GT's 5.0-liter V-8, as well as in the 480-hp Bullitt and the new Mach 1.
Genesis G70
Hyundai's luxury brand still offers its smallest sedan with a six-speed stick. Although the Genesis G70 shares its mechanicals with the automatic-only Kia Stinger, you can buy the Genesis with rear-wheel drive, a turbo 2.0-liter inline-four and three pedals. All-wheel-drive and V-6 models only come with an eight-speed automatic.
Honda Civic and Civic Type R
With the demise of the Fit, the Civic is now Honda's smallest car. Although the manual-only Si has also been discontinued, several versions of the compact are still available with a six-speed stick, including the Sport hatchback, which also packs the 180-hp version of the turbocharged four-cylinder engine. Thankfully, the 305-hp Civic Type R survives and is still only offered with the six-speed.
Hyundai Accent
Hyundai offers more cars with a manual transmission than most brands, including its smallest model, the Accent. One of the cheapest new cars on the market, the subcompact sedan has a base price around $16,000 and comes standard with a six-speed manual behind its 120-hp four-cylinder. The mid-level SEL and the top Limited trim get a standard CVT automatic.
Hyundai Veloster and Veloster N
Another Hyundai for the stick-shift faithful is the brand's unique Veloster hatchback, which features three side doors. It gets a standard six-speed manual with the base 2.0-liter four or the turbocharged 1.6-liter four, which packs 201 horsepower. Hyundai also offers its 275-hp Veloster N hot hatch with three pedals, although we expect most buyers to go for its impressive new wet eight-speed dual-clutch.
Kia Forte GT
Unlike its sister brand Hyundai, the number of Kia models with three pedals has diminished radically over the last few years. For 2021, Kia only offers one model with a stick, the Forte sedan. A six-speed manual is available in the base FE trim level and in the turbocharged Forte GT, which is also available with a seven-speed dual-clutch.
Lotus Evora GT
The Evora GT remains the only street car Lotus currently sells in the United States. And it remains one of the only mid-engine sports cars you can buy with a stick shift. Though a six-speed automatic is available, a six-speed manual is standard and a better match for the Evora's 3.5-liter 416-hp naturally aspirated V-6.
Mazda 3
Mazda doesn't offer its smallest sedan with a stick, however, the Mazda 3 hatchback is still available with one. A six-speed manual is standard in the hatch with the Premium trim level and front-wheel drive. It's paired with a 186-hp 2.5-liter four-cylinder. Cars ordered with all-wheel drive or the new 250-hp version of the turbocharged engine are automatic only.
Mazda MX-5 Miata
Though its platform mate, the Fiat 124, has been euthanized, the fourth-generation Mazda Miata not only lives on but remains resolutely faithful to the rear-wheel drive sports car's original format, which includes a manual transmission. Both the two-seat roadster version and the RF (for "retractable fastback") are offered with the choice of a six-speed manual or an automatic across all trim levels.
Mini Cooper Hardtop and Clubman
The number of Mini models with manual transmissions is dwindling, but the British brand owned by BMW still offers three pedals in the Cooper and more powerful Cooper S versions of its Hardtop and Clubman. A six-speed stick is standard, while a dual clutch automatic is also available. This includes the hotter John Cooper Works versions of the Hardtop, however, the new 301-hp JCW GP is automatic only. That also goes for all-wheel drive versions of the Clubman.
Mitsubishi Mirage
This year, the Mitsubishi Mirage gets a mild facelift with revised front and rear styling and a few interior upgrades, but the small three-cylinder powered subcompact still comes standard with a stick and remains one of the cheapest cars out there. Base versions of both the Mirage hatchback and Mirage G4 sedan come standard with a five-speed. The higher trim levels get a CVT and return better fuel economy.
Nissan 370Z
Nissan's all-new 400Z will arrive sometime this year. Meanwhile the current 370Z, which hasn't changed much since 2009, remains its most affordable and only rear-drive sports car. The roadster was discontinued last year, but the coupe lives on and comes with a six-speed manual transmission in most trim levels, including the NISMO version. It even features an excellent rev-matching system.
Nissan Versa
All-new just last year, Nissan's smallest and least expensive model is better than ever. The Note Hatchback model is history, but the Versa sedan is still one of the most budget-friendly new cars you can buy, and you can get it with a five-speed manual. Unfortunately it's only available on the base S trim. Higher-level models get a CVT.
Porsche 718 Boxster / 718 Cayman
These days Porsche may be selling more crossovers than sports cars, but it keeps expanding its 718 lineup of mid-engine two-seaters. And each and every variation of both the Cayman coupe and Boxster convertible come with a stick. In fact, the manual is standard in all trim levels and with every powertrain, plus, the six-speed remains the only transmission offered in the hardcore Cayman GT4 and Boxster Spyder models.
Porsche 911
We hope we'll never see the day when the Porsche 911 doesn't offer a stick. So far, so good. This year, the brand's seven-speed manual remains a no-cost option over the eight-speed dual-clutch on the Carrera S and Carrera 4S in both coupe and convertible body styles. The new ultra high-performance 911 GT3, which will get an enhanced version of the fabulous naturally aspirated 4.0-liter flat-six and make more than 500 horsepower, will also be available with either a manual or automatic transmission.
2022 Subaru BRZ
All-new for the 2022 model year, Subaru's BRZ rear-drive 2+2 sports car still isn't turbocharged but it is more powerful and it's much better looking. More importantly, it's still available with a stick. Subaru has replaced the BRZ's current 205-hp 2.0-liter flat four with its 228-hp 2.4-liter of the same configuration. Both a six-speed manual and a six-speed automatic will be offered.
Subaru Impreza / WRX / STI
This year, Subaru customers can spec their Impreza with a stick, making the model a bit of a rarity in today's market, with a combination of all-wheel drive and three pedals. The base sedan and base hatch versions of the compact are available with a five-speed or a CVT. The two turbocharged high-performance variants, the WRX and WRX STI, get a six-speed manual.
Toyota 86
Toyota's Supra has been gobbling its sports car headlines lately, but the two-seater, co-developed with BMW, is only offered with an automatic. However, its other rear-drive sports car, the 86, is offered with a stick. Co-developed with Subaru, the 2+2 is a mechanical twin to the Subaru BRZ so it too will be all-new and more powerful for 2022. Sometimes called the "Toyobaru," the small coupe will be offered with a six-speed manual or a six-speed automatic.
Toyota Corolla
Wrap your brain around this car lovers: Toyota offers more models with a manual transmission than a long list of automakers that includes Ford, FCA, Mercedes, and Honda. In addition to the 86, you can order a row-it-yourself gearbox in a Toyota Corolla. Toyota offers a six-speed manual as an alternative to the standard CVT on the Corolla SE sedan, as well as the SE and XSE versions of the Corolla hatchback.
Volkswagen Golf and Golf GTI
The all-new eighth-generation Golf will arrive later this year as a 2022 model. The hatchback will feature a manual transmission, and the GTI, which will be cranked up to 241 horsepower and 273 lb-ft of torque, will return with a standard three-pedal set up. A seven-speed dual-clutch automatic will be optional. In the meantime, you can still get the current Golf and GTI with a six-speed manual. Sadly the Golf R has been shelved, but VW says it too will return.
Volkswagen Jetta and Jetta GLI
The other VW with a stick is the Golf's be-trunked counterpart, the Jetta. Most are sold with the eight-speed automatic, but you can get the base S model with a six-speed manual. You can also get the stick on any version of the performance-oriented Jetta GLI, which is basically a sedan version of the Golf GTI. Both made our 10Best list again this year.
This content is created and maintained by a third party, and imported onto this page to help users provide their email addresses. You may be able to find more information about this and similar content at piano.io