Convert Your Car into a Recording Studio with This Audio Gear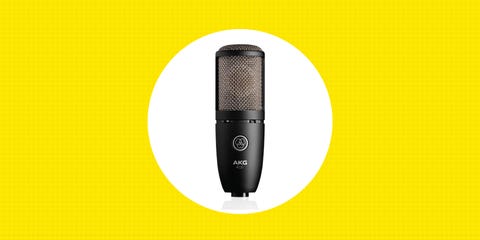 Car and Driver
New cars are quieter than ever, which means they're soundproof enough to become mobile recording studios. That's not the intent of double-pane windows, laminated windshields, or all the yards of foam, carpeting, and shielding inside a modern vehicle, but since we're running out of rooms in our houses these days—and there's nothing better to do—why not lay down beats in your Lexus?
The hardware listed here is mostly entry level from trusted audio brands. Audiophiles and professionals best look away; this is for beginners and decent amateurs who want to have fun. (We're not mixing the next T Swift album.) And before you start, don't use these cars as the basis for your studio. They're kind of loud.
Here's Everything You Need to Get into CB Radio
---
Advertisement – Continue Reading Below
Condenser Microphone
AKG is in the new Cadillac Escalade, and it's a great name in real recording studios. A condenser mic captures the widest range of frequencies and detail, but note that this one is meant for vocals, not instruments.
Preamp/DAC
M-Audio
amazon.com
$110.41
Use a condenser mic with a quality preamp and digital-to-analog converter, which processes the signal before it reaches your computer. This M-Audio unit has a 24-kHz/192-bit DAC (digital-to-analog converter) for one mic and lets you control the mix from the microphone input and the output from your computer.
USB DAC
AudioQuest
amazon.com
$99.95
It looks like a USB flash drive, but the DragonFly is a sophisticated DAC that bypasses a laptop's poor sound processing and makes music truly pop. It's an output device only and reduces distortion when playing at high volume.
XLR Cable
Amazon Basics
amazon.com
$7.99
Shielded XLR cables are the standard in the music industry, so grab a short-length set like these.
Headphones
Audio-Technica
amazon.com
$99.00
Forget earbuds, noise-canceling, wireless, or anything made by Beats. You need clean, unfiltered sound to monitor your studio, and this mid-grade model from Audio-Technica does just that.
Microphone Stand with Pop Filter
ZaxSound
amazon.com
$19.99
Any small stand can fit on your center armrest, and a pop filter is a perfectly plausible tool you need to produce portable audio. Try recording that previous sentence without one—you'll never do that again.
Audio Software
The M-Audio preamp comes with a free version of Pro Tools, but if you're splurging, get the full version of this very powerful recording software.
Laptop
Dell
amazon.com
$1,379.98
A light and robust laptop like the Dell XPS has all the power you'll need, plus a touchscreen that can fold 180 degrees.
Storage
Western Digital
amazon.com
With hi-fi audio comes big file sizes. Data storage is cheap and fast these days, so grab a USB 3.0 drive.
This content is created and maintained by a third party, and imported onto this page to help users provide their email addresses. You may be able to find more information about this and similar content at piano.io
Advertisement – Continue Reading Below