Cars That Didn't Make the Cut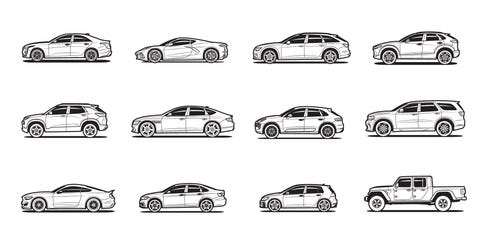 Illustration by Clint FordCar and Driver
For two weeks in September, the Car and Driver staff tested and evaluated 57 vehicles vying for a spot on our 10Best list. These contenders are either new or significantly revised for the 2021 model year, or they won a 10Best award last year. And because expensive cars should be excellent by default, we only consider vehicles with a base price below $90,000. We judge the entrants with a focus on value, fun, and mission fulfillment, resulting in a group of winners that captures the diversity of the automotive market. Here you can read our quick-hit notes on the also-rans—the good, the bad, and the mediocre—that didn't make the cut.
See the Winners
Acura TLX
Low cowl, wide hood, great forward view, and satisfyingly firm around the driving loop. Just needs the Type S's summer tires.
Audi A6 Allroad
Not trying to be as sporty as the Mercedes-Benz E450 All-Terrain and better for it.
BMW 228i Gran Coupe
Possesses none of the ride-and-handling balance that helped make the BMW brand.
BMW M235i xDrive Gran Coupe
Sullies the good name of the rear-wheel-drive 2-series coupe. Feels very front-drive when you lean on it. And there's nothing M about it.
BMW M440i xDrive
What a sweet and massively strong inline-six, but the CT4-V drives more cohesively around the loop.
Cadillac CT4 / CT4-V
This car proves that you can impart a huge amount of premium feel just through a stiff structure and good chassis tuning.
—
The haters will complain that this isn't a real V car. Forget the badge—and them; it's a real sports sedan.
Cadillac CT5-V
Enjoyable to drive not because of its raw capabilities but because of its organic feel.
Cadillac Escalade/ESV
It has taken five generations for GM to properly differentiate the Escalade from its other full-size SUVs. This one finally gets it right.
Chevrolet Suburban
Third-row space is on par with that of minivans, the gold standard of people movers.
Chevrolet Tahoe
Mostly refined, but you'll feel a lot of steering-column and structural shake on the road.
Chevrolet Trailblazer
Feels cheap, but at $32K, it isn't.
Chrysler Pacifica AWD
Pillows? Why are there pillows in the back seat?
—
The pillows are fantastic!
—
Chrysler understands that kids are going to beat each other silly with these pillows, right?
Dodge Charger SRT Hellcat Redeye Widebody
A loud reminder there's more to life than just horsepower.
Dodge Durango SRT Hellcat
It's not just about the engine; SRT sure made this big SUV dance, too.
Ford Mustang Shelby GT500
No magazine story or YouTube video can convey the ferocity of this car. Awesomeness, thy name is GT500.
Genesis G80
A budget luxury liner with an interior as sumptuous as those of cars costing 20 grand more.
GMC Yukon
This is the sweet spot in GM's full-size-SUV lineup where luxury and value meet.
Hyundai Sonata
Doesn't drive nearly as refined as it looks.
Hyundai Venue
This hits the shrunken-SUV segment right on the head.
Jeep Gladiator
If you can't have fun in, with, or around the Gladiator, you aren't good at life.
Kia K5
If Kia could match or even come within 90 percent of the Accord's isolation, it'd have a winner.
Kia Seltos
A bigger, better, all-wheel-drive Kia Soul.
Land Rover Defender
Someone should show this to Jeep as proof that you don't have to punish your customers for wanting to go off-road.
Lexus IS350
A naturally aspirated V-6 just doesn't get it done in this segment anymore.
Mazda CX-30
Much more in the realm of Audi and BMW than Chevy and Toyota.
Mercedes-AMG A35 4Matic
The upscale interior makes it seem worth the $52K price; its harsh ride does not.
Mercedes-Benz E450 All-Terrain
"All-Terrain"? On these summer tires? Surely you can't be serious.
Mercedes-Benz GLA250 4Matic
One of the most improved models versus its predecessor, but it's still not particularly special.
Mercedes-Benz GLB250 4Matic
Turn on Sport mode and it almost feels like a tall hot hatch—almost.
Mini Cooper SE
That this EV looks like other Minis rather than a dorky roller skate is its strongest selling point.
Nissan Rogue
The Rogue is no longer a complete mess, but the competition is still better.
Nissan Sentra
Too bad Nissan finally made a really nice small sedan at a time when buyers don't want them.
Polestar 2
The epitome of simple sophistication.
Subaru Crosstrek
Honest, light, simple. Not trying to be something it isn't. Why aren't there more cars like this?
Toyota Camry TRD
The bones are there to make something really cool. Seems like a squandered opportunity.
Toyota Highlander
There's really no reason to choose the standard gas engine anymore. The hybrid is smooth and gets 30-plus mpg.
Toyota RAV4 Prime
Proof that an extra 100 horsepower goes a long way in making any compact crossover significantly more interesting.
This content is created and maintained by a third party, and imported onto this page to help users provide their email addresses. You may be able to find more information about this and similar content at piano.io