Car Insurance in Kansas City, Missouri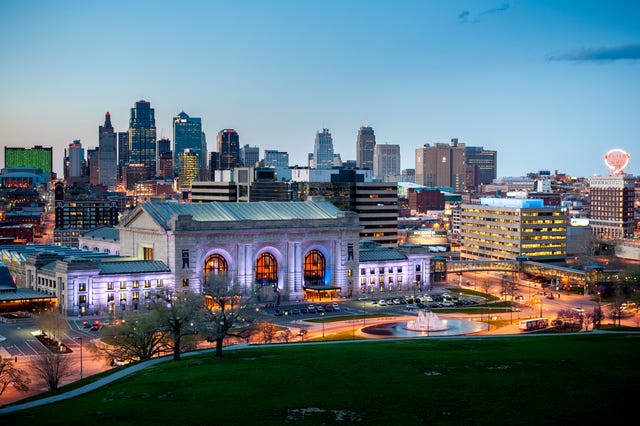 Edwin RemsbergGetty Images
According to Missouri state law, all drivers, including those who live in Kansas City, must have car insurance to operate a motor vehicle on Missouri roadways. Your insurance rates may vary according to factors like your age and marital status.
What Are the Minimum Liability Requirements in Missouri?
Like most states, Missouri requires drivers to carry a minimum amount of liability insurance. If you're a Kansas City driver, your insurance policy should include the following:
$25,000 in bodily injury coverage per person
$50,000 in bodily injury coverage per accident
$10,000 in property damage coverage
Bodily injury liability coverage protects you from liability if you cause an accident that results in injuries to the other driver. Property damage liability coverage pays for damage to the other driver's vehicle. As Insurify points out, liability insurance also covers legal fees if you're at fault in an accident that results in court proceedings. In addition to liability insurance, Missouri also requires drivers to carry uninsured/underinsured motorist coverage. This type of coverage protects you if you're in an accident with an uninsured driver.
As ValuePenguin points out, Missouri's minimum coverage requirements may not be enough to cover the cost of every accident. Experts recommend that Kansas City drivers purchase more coverage than the minimum and add comprehensive and collision coverage to their policies.
How Much Does Insurance Cost In Kansas City?
According to NerdWallet, Kansas City drivers can expect to pay, on average, $1991 a year for auto insurance. That's higher than both the statewide average of $1736 and the national average of $1548. There are several factors that contribute to the higher rates that Kansas City drivers pay. According to QuoteWizard, these factors include:
Weather – Kansas City experiences a lot of rainfall throughout the year, which can cause unsafe driving conditions, especially for commuters who have to take the freeway. Driving in Kansas City in the winter is even trickier, thanks to an average snowfall of 13.4 inches.
Road Conditions – At least 13 percent of the major roads in Kansas City are in poor condition, while another 27 percent of major roads are, at best, mediocre. Poor road conditions cost Kansas City drivers an additional $398 in vehicle maintenance.
Traffic – Kansas City ranks 67th when it comes to the most traffic-congested cities in the country. During rush hour, Kansas City drivers spend an extra 13 minutes sitting in traffic. If you have a 30-minute commute, you're likely to waste 50 hours a year stuck in traffic.
Factors That Affect Individual Insurance Rates
The Zebra notes that there are several factors that can affect your individual insurance rate, so you may end up paying lower rates than the typical Kansas City driver, or you might see an increase. If you want to try to save money on your auto insurance, the best thing to do is shop around for quotes from a variety of companies. Here is what a Kansas City driver can expect to pay for insurance, on average, depending on what company they purchase a policy from:
State Farm – $1355 a year
American Family – $1892 a year
Progressive – $1935 a year
Farmers – $1962 a year
GEICO – $1979 a year
Because teen drivers pose a bigger risk when they get behind the wheel, they tend to pay more for insurance than other Kansas City drivers. On average, teen drivers can expect to pay $4826 more than drivers in their 20s, the largest difference in insurance rates between any two age groups. The Zebra breaks down how much each age group of Kansas City drivers pays for an insurance policy:
Ages 16 to 19 – $7515 a year
Ages 20 to 29 – $2688 a year
Ages 30 to 39 – $1930 a year
Ages 40 to 49 – $1786 a year
Ages 50 to 59 – $1648 a year
Ages 60 to 69 – $1665 a year
Ages 70 to 79 – $2015 a year
Insurance companies also factor in a driver's gender and marital status. Based on industry data, unmarried drivers tend to file more insurance claims than married drivers, making them more of a risk to insure. That's why insurance companies are likely to charge unmarried Kansas City drivers higher rates. Female drivers in Kansas City also pay more for car insurance. The Zebra provides the average cost for Kansas City drivers based on their gender and marital status:
Female Drivers – $2007 a year
Male Drivers – $1991 a year
Single Drivers – $1808 a year
Married Drivers – $1625 a year
Divorced Drivers – $1935 a year
Widowed Drivers – $1899 a year
If you really want to save money on your car insurance, you should focus on maintaining a clean driving record. Traffic violations, even minor ones, can trigger a rate hike. A speeding citation can cause your premium to increase by $451 a year, while a Kansas City driver found guilty of reckless driving can see their insurance rates increase by $742 a year. According to The Zebra, this is how much Kansas City drivers can expect to pay after certain driving violations:
DWI/DUI – $2733 a year
Reckless Driving – $2736 a year
At-Fault Accident (Damages Less Than $1000) – $2723
At-Fault Accident (Damages Exceeding $2000) – $2991
Speeding Ticket (16 to 20 miles over the speed limit) – $2442
In the state of Missouri, insurance companies are allowed to factor in your credit score when calculating your insurance rates. If you improve Here are the rates Kansas City drivers can expect to pay, according to The Zebra, based on credit score:
Very Poor – $4480 a year
Fair – $2449 a year
Good – $1991 a year
Very Good – $1740 a year
Exceptional – $1498 a year
Car Insurance Discounts For Kansas City Drivers
According to QuoteWizard, there are several car insurance discounts that Kansas City drivers can qualify for. These include:
Bundling Discount – Bundling your auto insurance policy with your homeowner's policy can save you up to 15 percent on your insurance.
Senior Discount – Many companies offer a senior discount or a retired driver discount for drivers over the age of 55.
Good Student Discount – If your teen driver maintains a B grade average or higher, they may qualify for a good student discount.
Military Discount – Active military members and military veterans often qualify for an insurance discount in honor of their service.
Check this out if you need additional information, resources, or guidance on car insurance.
Sources:
Cheap Auto Insurance Quotes in Kansas City, MO (2021)
Cheap Car Insurance Quotes in Kansas City, Missouri
How much does auto insurance cost in Kansas City?
Best Cheap Car Insurance in Missouri for 2021
Compare Auto Insurance in Kansas City
How to Drive in Snow Safely
Best Used Cars Under $10,000 for Teen Drivers
Car Insurance
This content is created and maintained by a third party, and imported onto this page to help users provide their email addresses. You may be able to find more information about this and similar content at piano.io