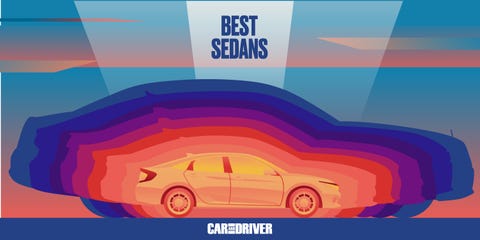 Jeff XuCar and Driver
Sedans are a little like the dad jeans of the automotive world. While perhaps not always the most stylish of choices, they can be comfortable, practical, and come in sizes ranging from small to full-size. There are tons of options in the sedan category, but these are the best sedans you can buy for 2021.
Those who are interested in the best sedans from 2020 can refer to last year's list.
Sedans Ranked from Worst to Best: Mid-Size | Full-Size
Advertisement – Continue Reading Below
Hyundai Accent
With a starting price around $16,000, the 2021 Hyundai Accent is one of the least expensive new vehicles today, but Hyundai doesn't make any of its three trims a penalty box. All three are powered by an unexciting-but-efficient 1.6-liter four-cylinder engine bolted to either a six-speed manual or a continuously variable automatic transmission (CVT). All Accents come with features that only a few years ago would be considered luxuries in the subcompact car segment, including power windows, air conditioning, and a six-way adjustable driver's seat. Moving up to the SEL and Limited trims adds even more modern-day luxuries such as a larger 7.0-inch infotainment touchscreen, heated seats, and push-button start. Best of all, the Accent will never make you feel—or look–cheap thanks to grown-up styling and a no-fuss interior.
Review, Pricing, and Specs
Kia Rio
The 2021 Kia Rio sedan and hatchback are classified as economical subcompact cars—we used to call such cars "econoboxes"—but they're surprisingly more sophisticated than that. The Kia couple share a cabin design that exudes an elegant simplicity thanks to a smart layout and pleasing materials. On the flip side, both of the Rios' back seats suffer from limited passenger space and neither body style has a particularly accommodating cargo area or trunk. Still, we appreciate that they're one of the few subcompact cars to offer standard Apple CarPlay and Android Auto. We're even willing to forgive their dearth of common driver assists, because the Chevy Spark and Nissan Versa are the only rivals that offer more advanced safety features. The 2021 Rios shine with their refined ride quality and composed handling, which help squash any stereotypes about cheap transportation.
Review, Pricing, and Specs
Hyundai Elantra
Hyundai is becoming increasingly known for daring designs, and the company's compact sedan, the 2021 Elantra, is the latest to receive a bold new look. The new Elantra sports angular exterior details and an upscale cabin, both of which are intended to pull focus away from the segment's heavy hitters—namely the Honda Civic, Toyota Corolla, and Nissan Sentra. The standard powertrain is a 147-hp four-cylinder but Hyundai also offers a 201-hp turbocharged N Line model and an available hybrid powertrain. A host of driver-assistance features are standard, with even more advanced tech offered as options.
Review, Pricing, and Specs
Honda Civic
Once mere basic transportation, the humble Honda Civic has blossomed into a desirable and fun-to-drive compact car. Available as either a sedan or a practical hatchback, the Civic is powered by your choice of a 158-hp 2.0-liter four-cylinder or a turbocharged 1.5-liter that makes 174 or 180 horsepower, depending on the model. Honda loads up its smallest car with plenty of standard driver-assistance features, including automated emergency braking, adaptive cruise control, and lane-keeping assist. Oddly, modern infotainment features aren't standard; the base LX model comes with a tiny touchscreen that offers radio tuning and not much else. The base model notwithstanding, the Civic is a compact car that should satisfy most buyers and one we're happy to recommend. If you're seeking something with a spicier flavor, we'd suggest the 306-hp Civic Type R (both reviewed separately).
Review, Pricing, and Specs
Mazda 3
If a 2021 Mazda 3 shows up when you call your next Uber, we'd forgive you for confusing it with a far more expensive Audi or BMW as you settle into the passenger's seat. Mazda often straddles the line between mainstream and luxury, and it pays off in its bread-and-butter hatchback, particularly in the swanky Premium and Premium Plus trims. A trio of four-cylinder engines are on the menu, as is all-wheel drive. The 3 continues to be one of the most refined and athletic compact cars on sale today, with high-tech infotainment and driver-assistance features that provide a class-above experience. That said, adding those features may drive the 3's price beyond what buyers in this segment are willing to pay, giving mainstream stalwarts like the Toyota Corolla and Honda Civic an edge.
Review, Pricing, and Specs
Volkswagen Jetta GLI
The 2021 Volkswagen Jetta GLI has the same amazing driving attributes that make the Golf GTI a smash hit. Although the hatchback has a nicer interior, it's actually the sedan that's more practical, thanks to its roomier back seat and bigger trunk. Both VW's boast a potent 228-hp turbocharged four-cylinder that mates to either an engaging manual transmission or a quicker-shifting automatic. The sedan's aesthetic is more sedated than its hot-hatch sibling, but at least it sells at a discounted price, as the GLI costs thousands less than the GTI. Still, these two Vee-Dubs are equally entertaining whether they're looping racetracks or racing down back roads—which made it an easy choice for our 2021 10Best list. Simply put, the 2021 Jetta GLI is compact-sedan greatness.
Review, Pricing, and Specs
Honda Accord
In the shrinking segment of family sedans there are still some great cars to choose from, but one stands above the rest for its impeccable driving dynamics, practical interior, and value: the 2021 Honda Accord. So impressed are we with the Accord that it's become a nearly permanent fixture on our annual 10Best list and it finds itself there again for 2021. Buyers can choose from two turbocharged four-cylinder powertrains; there's also a fuel-sipping hybrid model available. No matter what engine powers the Accord, its handling is effortlessly balanced, which makes navigating twisty roads a joy and long highway journeys a pleasure. The Accord boasts a spacious trunk that will make grocery runs a snap and a back seat is commodious enough for two adults for long road trips. The roomy interior also easily accommodates multiple child seats for growing families.
Review, Pricing, and Specs
Hyundai Sonata
The 2021 Hyundai Sonata is a really good way to get attention while driving a family sedan. Its dramatic styling includes exaggerated proportions, a prominent grille, and a quirky design cue featuring a spear of bright trim that flows along the front fenders and into the headlights to create what designers call a "lighting signature." Inside, the Sonata flaunts a sophisticated, attractive space loaded with upscale features and plenty of passenger room. While the Sonata isn't quick or engaging to drive, it has a trio of efficient powertrains, including a hybrid option that has higher government fuel-economy ratings than the Toyota Camry hybrid. Still, the Hyundai is less about numbers and more about value, thanks to its affordable pricing and an impressive amount of content.
Review, Pricing, and Specs
Mazda 6
The 2021 Mazda 6 isn't just the prettiest family sedan, it's also more enjoyable to drive and ride in than most of its peers. While the Mazda isn't as flawless as the Honda Accord or as fresh as the Hyundai Sonata, it definitely delivers a more expensive-feeling experience than either of those top-flight alternatives. Neither its 2.5-liter four-cylinder engine or the more potent turbo version are particularly compelling, and there's currently no eco-friendly hybrid model, but the 6 drives with a mix of athleticism and refinement that broadens its appeal. We wish Mazda would make the car's fanciest features available across the board, but even the lower end of the lineup has a host of standard driver assists and popular technology. Although the 2021 Mazda 6 isn't perfect, it's one of the classiest entries in this class of family-oriented four-doors.
Review, Pricing, and Specs
Kia K5
Even with the dwindling desirability of family sedans, Kia has crafted a compelling example with the all-new 2021 K5. Its daring design evokes sportiness and luxuriousness, and the sleek-looking four-door is a legitimate head-turner. The cabin is elegantly appointed and brimming with high-tech content, such as a digital gauge cluster and cool ambient lighting. While the K5 isn't particularly entertaining to drive, its powertrain and ride provide a refined experience. The 290-hp GT model comes with performance equipment that should give it a more entertaining attitude. A spacious back seat and generous trunk also make it a useful alternative to popular crossover SUVs, especially with its optional all-wheel-drive system. The death of the mid-size sedan may be imminent, but the 2021 K5 aims to be one of the best left.
Review, Pricing, and Specs
Mercedes-Benz A-Class
Distilling a luxury brand's ethos down to a small and affordable entry-level sedan is a tough task wrought with compromise, but the 2021 Mercedes-Benz A-class delivers a sophistication similar to its more expensive stablemates. Mercedes equips all A-class models with a host of luxury amenities and offers even more as optional extras. A turbocharged 2.0-liter four-cylinder engine is standard and delivers adequate power but easily fades into the background for quiet highway cruising. Tech features abound as well, including a version of Mercedes's dual-screen infotainment/digital gauge display setup with the MBUX infotainment interface. Going up against other compact luxury sedans such as the Cadillac CT4 and the BMW 2-series Gran Coupe puts an even finer point on the Mercedes's luxury experience.
Review, Pricing, and Specs
Mercedes-AMG A35
Aimed at young up-and-comers looking for a luxury ride with sporting aspirations, the 2021 Mercedes-AMG A35 offers plenty of style, features, and performance for the money. The subtle slope of the roof and the gently curved beltline make this compact three-box look elegant and agile, particularly when parked beside the high-rumped BMW M235iGran Coupe, one of its main competitors along with the Audi S3. The elegance continues inside, where everything looks thoroughly modern, with cabin-lining ambient lighting and a generously sized two-in-one touchscreen display for the instruments and infotainment system. Though it's the littlest car in the Mercedes lineup, in the U.S., the A35 sits atop the A-class range with an AMG-enhanced turbocharged inline-four, good for 302 horsepower. If that doesn't do it for you, perhaps its slightly larger platform-mate, the CLA, will; it can be had with a rowdy 382-hp four-cylinder.
Review, Pricing, and Specs
Mercedes-Benz CLA-Class
Buying an entry-level Mercedes-Benz such as the 2021 CLA-class no longer means compromising on refinement or driving satisfaction. While it shares its platform with the A-class sedan, the CLA250 offers swoopier, coupe-like styling, and a more powerful 221-hp turbocharged 2.0-liter four-cylinder engine. Inside, Mercedes's newly tech-focused cabin is on display with a dual-screen dashboard that's comprised of a reconfigurable gauge display and either a 7.0- or 10.3-inch touchscreen infotainment system. Handling is reasonably nimble and the ride is refined. It's not particularly roomy, especially in the rear seat, but cargo space is more than enough for most use cases. Overall, the CLA250 represents the modern Mercedes-Benz experience in a bite-sized package.
Review, Pricing, and Specs
Tesla Model 3
Among the more affordable options in the electric-vehicle marketplace, the 2021 Tesla Model 3 is without doubt the one with the most name recognition. It borrows some styling cues from the company's Model S sedan and Model X SUV, but goes its own way with a unique interior design and an all-glass roof. Acceleration is quick, and the Model 3's chassis is playful as well—especially the Performance model's, which receives a sportier suspension and a track driving mode. But EV buyers are more likely interested in driving range than speediness or handling, and the Model 3 delivers there too. The base model offers up to 263 miles of driving range according to the EPA, and the more expensive Long Range model can go up to 353 per charge.
Review, Pricing, and Specs
BMW 3-Series
The 2021 BMW 3-series epitomizes the modern sports sedan with its comprehensive performance and innate sophistication. The German brand offers two phenomenal engines for this model—a 255-hp four-cylinder and a 385-hp straight-six—both of which are as quick as they are refined. There's also a plug-in hybrid for the green crowd. While we're saddened by BMW's decision to eliminate the 3's manual transmission, the perceptive eight-speed automatic is a worthy substitute. What's more, the 3's fantastic chassis can seamlessly shift from calm to frisky at a moment's notice. Unfortunately, its steering—although improved over the previous generation's—still lacks the tactility that enthusiasts once idolized. The 2021 3-series fulfills its mission as an entry-level premium sedan with ample cabin and trunk space as well as copious amounts of luxury and technology.
Review, Pricing, and Specs
Genesis G70
Like its corporate cousin, the Kia Stinger, the 2021 Genesis G70 aims for luxury sports sedan prowess with an unbeatable price tag—and does it ever deliver. The G70 balances ride refinement and handling prowess in the way that makes the BMW 3-series and the Mercedes-Benz C-class so desirable—but both of those cost thousands more to start. Inside, the G70's cabin offers a delightfully refined design and a host of standard convenience features. The rear seat passenger space isn't as spacious as some of its rivals' and its infotainment interface is in need of an update, but otherwise, it's difficult to find fault with what is an overall excellent package.
Review, Pricing, and Specs
Mercedes-Benz C-Class
Some entry-luxury cars are too sporty and others are too soft, but the 2021 Mercedes-Benz C-class falls in the sweet spot. In its standard C300 form, it combines a quiet and comfortable ride with just the right amount of handling acuity—and if you want more power and performance, Mercedes offers the AMG C43 and C63 models, which we review separately. The C300 is available in sedan, coupe, and convertible models. Although the current generation is nearing the end of its life cycle, it still has plenty of modern technology, and its interior and exterior designs have aged well. A redesigned C-class is expected to arrive within the next year or so.
Review, Pricing, and Specs
Mercedes-AMG C43
With a 385-hp twin-turbo V-6 under its hood, the 2021 Mercedes-AMG C43 one-ups its Benz-branded C300 counterpart and borrows styling and chassis components from the even racier AMG C63 models. The C43 is offered as a four-door sedan and as a two-door coupe or convertible, the last of which allows open-air enjoyment of the blown V-6's dulcet exhaust tones. All models wear stylish exterior styling and provide a cozy cabin with all the amenities expected of a Mercedes, although two-door models are less practical and offer less space for rear-seat passengers. While its performance isn't as impressive as the more powerful C63, the well-balanced C43's price tag is far more accessible and it retains the fun-to-drive nature and upscale environs of the other C-class models.
Review, Pricing, and Specs
Mercedes-AMG C63
The number of high-performance SUVs is growing every year, but if you're on the market for a compact car that can blow away almost everything else on the road look no further than the 2021 Mercedes-AMG C63. It's based on the Mercedes-Benz C-class, but has a twin-turbocharged V-8 engine making 469 horsepower in the C63 and 503 hp in the C63 S. The C63 also has a sportier suspension tune (you'll notice a harsher ride) and some exterior differences compared to the regular C-class that add some aggression to its appearance. It's available as a sedan, a coupe, or a convertible, and it goes like it's got a Saturn V booster rocket strapped to its roof. Plus, it has a legitimately luxurious interior and plenty of up-to-the-minute technology, so you're not trading anything away in return for the performance.
Review, Pricing, and Specs
Alfa Romeo Giulia Quadrifoglio
Although it shares its underpinnings, styling, and cabin with the regular Giulia sedan, the 2021 Alfa Romeo Giulia Quadrifoglio is a different beast thanks to one critical element: its twin-turbocharged 2.9-liter V-6 engine. This gem of a powerplant cranks out a hearty 505 horsepower and takes the Giulia's performance to 11. It rivals the Audi RS5 Sportback and the Mercedes-AMG C63, and like the standard Giulia, the Quadrifoglio delivers thrilling handling and a drop-dead gorgeous exterior that really turns heads. Alfa Romeo isn't known for reliability, and over 40,000 miles with our long-term Giulia Quadrifoglio, we experienced quite a few quality issues. But this supersedan's sporting character and unrivaled beauty make it easier to overlook those flaws.
Review, Pricing, and Specs
Genesis G80
From its unique double headlights and gigantic pentagonal grille to its slippery bodywork and sloping roofline, the all-new 2021 Genesis G80 is a rolling beauty. The shapely sedan is inspired by the company's new GV80 SUV, which also looks the part of a high-class luxury vehicle without the high-end price tag. Both entries are Genesis' attempt to usher in a new era and increase its cachet as a burgeoning luxury brand the likes of BMW and Mercedes-Benz. The G80 slots in between the smaller G70 and the larger G90 sedans, and it's expected to compete with mid-size luxury cars such as the BMW 5-series and the Mercedes-Benz E-class.
Review, Pricing, and Specs
Mercedes-Benz E-Class
The 2021 Mercedes-Benz E-class epitomizes sophistication with its bleeding technology, classy appearance, and extravagant cabin. Available as a four-door sedan or two-door coupe and cabriolet, the Mercedes can be made to match all manner of upper-class lifestyles. It also offers a set of distinct powertrains that range from an entry-level four-cylinder to a plug-in hybrid to a zesty turbocharged six-cylinder that makes 362 horsepower. The 2021 E-class family chauffeurs passengers in quiet comfort thanks to a serene interior and a pillowy ride. The experience is not unlike a smaller and more affordable version of the ultra-luxurious S-class.
Review, Pricing, and Specs
Mercedes-AMG E53
When the elegant Mercedes-Benz E-class doesn't offer enough excitement, the 2021 AMG-tuned E53 fills the void with increased performance and edgier styling. A unique grille and exclusive exterior details help separate its sedan, cabriolet, and coupe body styles from their more pedestrian counterparts. A 429-hp turbocharged six-cylinder powertrain and standard all-wheel drive deliver all-weather traction and zealous acceleration. Of course, the E53 family also maintains Mercedes' luxury pedigree with an eye-catching cabin that boasts cutting-edge technology and upscale materials. In a class brimming with talented competitors, the 2021 Mercedes-AMG E53 ranks among the most remarkable.
Review, Pricing, and Specs
Mercedes-AMG E63 S
The 2021 Mercedes-AMG E63 S sedan is the materialization of pure affluence crossed with rapturous performance. It's based on the regular Mercedes-Benz E-class, but the E63 S is actually a more powerful version of the AMG E53. However, this significantly more expensive sibling features a fire-breathing 603-hp twin-turbo V-8 that helps it accelerate with breathtaking speed. Plus, the E63 S's talented all-wheel-drive system has a Drift mode that routes all of the engine's power to the rear wheels for entertaining sideways action. Of course, this mightiest E is hardly meant for adolescent indulgences. Its rowdy soundtrack and incredible handling make it a machine that can intimidate and challenge even the most exotic cars. And once those opponents are left stunned, the 2021 E63 S sedan pampers its passengers like a five-star resort.
Review, Pricing, and Specs
BMW M5
With a twin-turbo V-8 that churns out up to 617 horsepower, the 2021 BMW M5 deserves a more explicit classification than mere sports sedan. Although based on the normal 5-series and sharing an equally elegant interior, the mighty Bimmer is transformed by the company's high-performance M division. Sure, its mission to outrun some of the best sports cars is veiled by its relatively subdued appearance, but simply mat the accelerator and hold on as the M5 blasts ahead like a cruise missile. Its track-ready hardware also supports impressive handling limits, and its sophisticated all-wheel-drive system also allows juvenile rear-drive sideways shenanigans. However, the BMW's six-figure price tag might as well be a "no kids allowed" sign, because the 2021 M5 is a machine for well-heeled men and women who covet rockets with four doors.
Review, Pricing, and Specs
Audi A6
Comfortable, spacious, and well-equipped, the 2021 Audi A6 checks the critical boxes for a mid-size luxury car. Its cabin is lined with quality materials and fit and finish ranks among the best the premium automobile marketplace has to offer. The A6 also woos tech-savvy buyers with a plethora of displays, cameras, driver-assistance features, and convenience items sprinkled throughout the interior. What's missing here is the crisp and tossable handling dynamics that shine so brightly in the smaller A4 sedan and its two-door A5 siblings. Buyers will choose from either a turbocharged four-cylinder engine (those models are denoted with a "45" badge) and a turbocharged V-6 (called "55"); both powertrains receive a boost from a hybrid system and come standard with all-wheel drive. The A6 is a handsomely styled—if somewhat bland—mid-size four-door that easily hangs with rivals such as the BMW 5-series and the Mercedes-Benz E-class, but is better suited for commuting duty than tackling twisty back roads.
Review, Pricing, and Specs
Tesla Model S
Tesla's Model S sedan was the first mass-market car to prove that electric vehicles could be fun-to-drive, eco-friendly, viable as everyday transportation, and even useable for long trips. The Model S does all that even better for 2021. Depending on which trim you choose, the Model S can travel between 390 and 520 miles on just one charge and deliver blistering acceleration performance that rivals some of the world's best supercars. Tesla now sells more practical and more affordable models such as the Model Y SUV and the Model 3 sedan, but the Model S remains the flagship of the brand. Its interior is spacious for four adults but doesn't live up to the luxury price tag. With increased pressure from rivals such as the Porsche Taycan and the upcoming Lucid Air, the Model S is no longer in a class of one, but for some buyers the car's athletic chassis, Ludicrous driving mode, and exceptional range are enough to sell them on the Tesla EV lifestyle.
Review, Pricing, and Specs
Porsche Taycan
The 2021 Porsche Taycan (pronounced tie-kahn) is a truly innovative electric vehicle, showcasing the high-performance potential of the species. As the first production EV with an 800-volt architecture and a multispeed transaxle, it sets new benchmarks in charging speeds and acceleration times. In fact, the top-of-the-line 750-hp Turbo S is among the quickest cars we've ever tested, even tying hypercars like the $1.7 million, 1000-hp Bugatti Veyron 16.4 to 60 mph in 2.4 seconds. This EV also has stamina, with the ability to make multiple high-speed runs without a significant loss in performance. Sure, the four-door sedan has a much shorter estimated driving range than its primary rival, the Tesla Model S, and all-wheel drive versions cost at least six figures at present. But the Taycan drives like a Porsche sports car and exhilarates in ways few electric models have done before.
Review, Pricing, and Specs
Audi A8
Audi's largest and most luxurious sedan—the 2021 A8—hides its high-dollar cabin behind a handsome-yet-understated façade. From a distance, it's easy to mistake this nearly six-figure sedan for a humble A4, but that sort of anonymity may actually be appealing to more restrained millionaires. Inside, buyers will find a cabin that is just as spacious and elegantly outfitted as the showier Mercedes-Benz S-class and BMW 7-series, including available massaging seats for front and rear passengers. Audi has rolled out its entire cavalcade of infotainment and driver-assistance technology here, as the A8 serves as a rolling showcase of whiz-bang features.
Review, Pricing, and Specs
Hyundai G90
As the flagship of the nascent Genesis luxury brand, the 2021 G90 sedan delivers a cossetting ride and limo-like cabin but does so at a price that undercuts established rivals by thousands of dollars. A twin-turbocharged V-6 is standard and buyers can opt for a 5.0-liter V-8 engine, but we found that performance is about the same no matter which one is under the G90's hood. Both are smooth and quiet, which helps create a serene cabin environment when cruising. The G90's front and rear seats are plush, spacious, and comfortable, and the cabin boasts plenty of standard luxury and convenience features. The primary area where the G90 doesn't match rivals such as the BMW 7-series and the Mercedes-Benz S-class is in the tech department, but most users will still find its standard infotainment and driver-assistance features intuitive and helpful.
Review, Pricing, and Specs
Mercedes-Benz S-Class
Boasting spectacular levels of luxury and state-of-the-art technology, the 2021 Mercedes-Benz S-class sedan is the German company's flagship and a rolling statement of success. Although its storied history is partly responsible for that prestige, the latest generation looks to improve on its impressive predecessor in every way. The new S-class has grander proportions, an even richer interior, innovative safety equipment, and some seriously futuristic features. The highlights include a 3D gauge cluster, a massive OLED touchscreen, rear-wheel steering for better maneuverability, and an active air suspension that makes cornering smoother and keeps passengers safer in the event of a collision. A pair of turbocharged powertrains and standard all-wheel drive should ensure that the 2021 S-class sedan can whisk you to business meetings or gala events on time, but its indulgent amenities and lounge-like back seat could be a reason to be fashionably late.
Review, Pricing, and Specs
This content is created and maintained by a third party, and imported onto this page to help users provide their email addresses. You may be able to find more information about this and similar content at piano.io
Advertisement – Continue Reading Below