9 Pickup Truck Tonneau Covers That Anyone Can Afford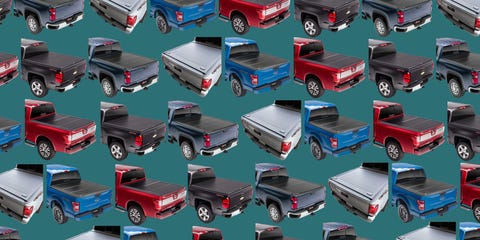 Courtesy
Tonneau covers don't just protect your cargo from weather and thieves, they can save you gas, too. We've found them offered in several materials and price ranges, and even a variety of designs: some fold, others roll up. Most of the versions here come in multiple sizes, and while some require tools for installation, all should take less than an hour to install. The covers below are all ranked highly on Amazon.
---
Advertisement – Continue Reading Below
Tri-Fold Tonneau Cover
This tri-fold top from Gator is constructed of heavy-duty aluminum panels that lock when closed. It can be installed in just 30 minutes without using tools or drilling holes.
Hard Folding Tonneau Cover
This particular tonneau cover from Bak fits several bed sizes and folds up without covering your third brake light. Prop rods hold the cover up when you're fishing through your bed. It's rated up to 300 pounds.
Soft Tonneau Cover
This highly-rated tonneau from TruXedo is soft and available in several bed sizes. It's made from material that will stand up to harsh weather and rolls up into a tight cylinder when not in use.
Aluminum Tonneau Cover
This cover from Synetic USA is made from aluminum and is lockable in any position. Hardware is included; installation takes about 30 minutes, and you will need to drill holes. No maintenance is required after that.
Auto Tonneau Cover
This cover by Tyger does not work with a power tailgate or factory side storage box, but fits several sizes of Silverado and Sierra. It's made from soft vinyl and doesn't require drilling for installation.
Soft Tonneau Cover
Tonno Pro's cover fits three bed sizes and features the "EZ clamping system" to lock down from the inside. The powder coated frame is sturdy and lightweight and comes preassembled.
Hard Tonneau Cover
This top is made for the Nissan Titan (2016-2020) by Undercover and is a tri-fold-type tonneau. Aluminum latching panels release with pull cords on either side of the truck. It has a 3-year warranty.
Tri-Fold Tonneau Cover
MaxMate
amazon.com
$199.00
This cover by MaxMate fits a 5- or 6-foot bed (check your sizes) and is made from marine-grade vinyl. Stainless steel clamps allow for easy installation though it will require some new holes. This one has a 10-year warranty.
This content is created and maintained by a third party, and imported onto this page to help users provide their email addresses. You may be able to find more information about this and similar content at piano.io
Advertisement – Continue Reading Below