7 Hot Aftermarket Wheels to Buy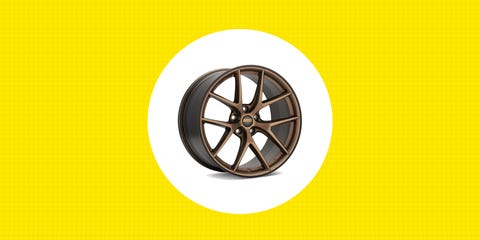 Autoweek
Aftermarket wheels are one of the most popular ways you can personalize your car. They're available in a seemingly infinite range of sizes, shapes, colors, patterns, and levels of performance. Best of all, they dramatically affect a car's look without permanent modifications and can be swapped like a fresh pair of Jordan Vs. Aftermarket wheels need to be carefully considered, as cheaper or unknown brands can compromise your vehicle's performance due to excessive weight. Conversely, lighter wheels can improve performance by reducing the rotating and unsprung mass of the wheel and tire package on your car. Cheaper wheels tend not to be as durable. So before you go speccing some new rims, consider the quality of road on which you generally drive. The following seven wheels are meant for larger-size applications—think 19-inch and above. Expect to pay between $600 and $1000 per wheel. Like the hottest shoes, the hottest wheels command a premium.
9 Top-Rated Summer Tires for Your Sports Car or Sedan
---
Advertisement – Continue Reading Below
Vossen HF-1
Vossen makes some of its high-end forged wheels in Miami. The Hybrid Forged series is misleadingly named because it is actually a casting, but it claims to be stronger and lighter than a typical cast wheel due to some manufacturing techniques. They are also half the price of a forged Vossen and look equally nice.  
BBS CI-R
BBS is best known for its strong Y-spoke racing wheels. But not every car looks good wearing a two-piece BBS LM. BBS has stuck with the Y-spoke but modernized it with this more delicate-looking and bronze-painted design.
Enkei Phantom
Enkei has a signature look that's still very popular (see the convex-style GT7) in the Japanese tuner scene. This elaborate style with the gunmetal paint is a nice alternative.
Asanti ABL-14
Asanti was known for excessively gaudy rims in the 2000s but has since shifted to more pleasing styles like this elegant 14-spoke wheel. In case you're wondering, it's cast.
OZ Racing Formula HLT
Italy's OZ is respected on track and dirt (frisbee-style Rally wheels should not be employed on the street unless if you know how to pendulum turn). The Formula HLT looks like it'd perform on both surfaces, plus it can be fitted with a faux-center-lock cap for a race-ready look that hides the five-bolt mount.
Sparco Trofeo 4
Sparco wheels are designed and built by OZ Racing, so there's substance and good manufacturing behind this bright-red eight-spoke design. If you've got a track car, go bold.
American Racing VF103 Forged Monoblock
While most American Racing wheels are no longer made in America, the company's forged lineup is and boasts superior strength to those cast overseas.
This content is created and maintained by a third party, and imported onto this page to help users provide their email addresses. You may be able to find more information about this and similar content at piano.io
Advertisement – Continue Reading Below