5 Escape Tools to Reach For If You Get Trapped in the Car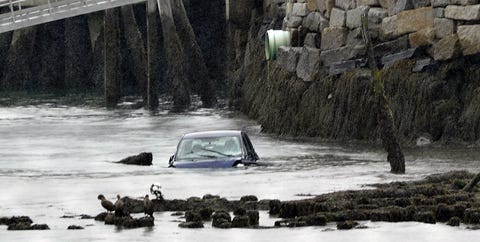 Portland Press HeraldGetty Images
It's not fun talking about having to escape a car. Unless you're testing your escape tool, it usually means that you've made your way into a situation where you, well, have to escape a car for fear of your own life. With that being said, having a handy car escape tool could be the difference between life and death. If nothing else, these would be good to throw in the center console of a new driver's car just to make you feel better about letting your young one out into the wild.
Resqme Keychain Car Escape Tool
This keychain-ready escape tool from Resqme comes with a seatbelt cutter and a window hammer. While having an escape tool in your car is a good idea, having one affixed to your keys might be the better option. Namely, so you don't lose it in the abyss of a messy car's center console or glovebox. It's also available in plenty of colors to give a little dash of flair to your emergency tool kit.
VicTsing Car Emergency Escape Tool
This two-pack of escape hammers might not have the same flair as the previous offering, but it is a utilitarian shade of high-visibility orange. More importantly, it seems to be a favorite among Amazon buyers. This tool obviously has a glass hammer, but less obvious is the seatbelt cutter at the base.
Workpro 8-in-1 Escape Tool
If you want some more features, look no further than this Workpro 8-in-1 safety tool. Not only does it have a seatbelt cutter and a glass hammer, but this 8-in-1 tool also features a tire pressure gauge, tread depth gauge, LED flashlight, tire deflator, a magnet and a flashing light. That's plenty to ask for from one escape tool!
Swiss+Tech BodyGard Auto Emergency Escape Tool
Swiss+Tech
amazon.com
$15.62
With slightly fewer features, this stripped-down 3-in-1 escape tool from Swiss+Tech gives you the essentials. Like every other tool on this list, the Swiss Tech features a seatbelt cutter and a glass hammer, but it also comes with a built-in LED light that might be useful in an emergency. 
Ztylus Stinger USB Emergency Escape Tool
Rounding out the list is an interesting twist on the escape tool. Instead of just being an escape tool, this gadget from Ztylus doubles as a USB charger. It can break a window and cut a seatbelt while also charging your phone. More importantly, the feature means you're more likely to keep it in an easy-to-access spot, and that means you won't lose it in the depths of your daily driver.
This content is created and maintained by a third party, and imported onto this page to help users provide their email addresses. You may be able to find more information about this and similar content at piano.io