2 Review: Is This the Future of Sports Sedans?
The verdict: A highly entertaining sports sedan packed with Scandinavian design, but its range, room and price keep it from true greatness.
Versus the competition: There's only one big target here: the Tesla Model 3. Compared with that car, the Polestar 2 is pricier, less roomy and has a shorter range, but it's much more conventional to drive and easily as entertaining — plus, its features are decidedly higher-quality.
When you're first to the game and wildly successful, a target gets painted on your back. Such is the case with the Tesla Model 3, the California automaker's more affordable compact electric sports sedan that's quickly become one of the best-selling luxury vehicles in the world regardless of power source. Everyone else has been playing catchup to Tesla, and we're starting to see some of those efforts trickle in: the Audi E-Tron, Jaguar I-Pace, Porsche Taycan and now the Polestar 2.
It's a brand you've likely never heard of, as it was recently spun off by Volvo and its Chinese parent company, Geely. Polestar used to be a high-performance tuner division whose name appeared on Volvo trim levels, and it still is to some extent, but that will eventually become less common as Polestar begins to flesh out its own lineup. As the Polestar 2 is the latest (but not last) effort to challenge the benchmark Model 3, we took it for an afternoon spin to see if it could hit that swift, silent, popular target.
Volvo Family Genes
You don't have to look too hard at the Polestar 2 to see its Swedish family heritage; despite being branded a Polestar, there's obvious Volvo lineage in every facet of its styling. From the Thor's hammer-style headlights and upright, chunky stance to the design of the taillights, nobody would've batted an eye had this thing debuted as the Volvo E60. Polestar representatives acknowledge this, saying both this car and the Polestar 1 two-door plug-in hybrid sports coupe definitely have visual ties back to Volvo, but that the next model, an SUV called the Polestar 3, will not. A hint at the unique design language that car and all future Polestars will use can be seen in the Precept concept car that Polestar put out in February, which was supposed to have debuted at the canceled 2020 Geneva International Motor Show.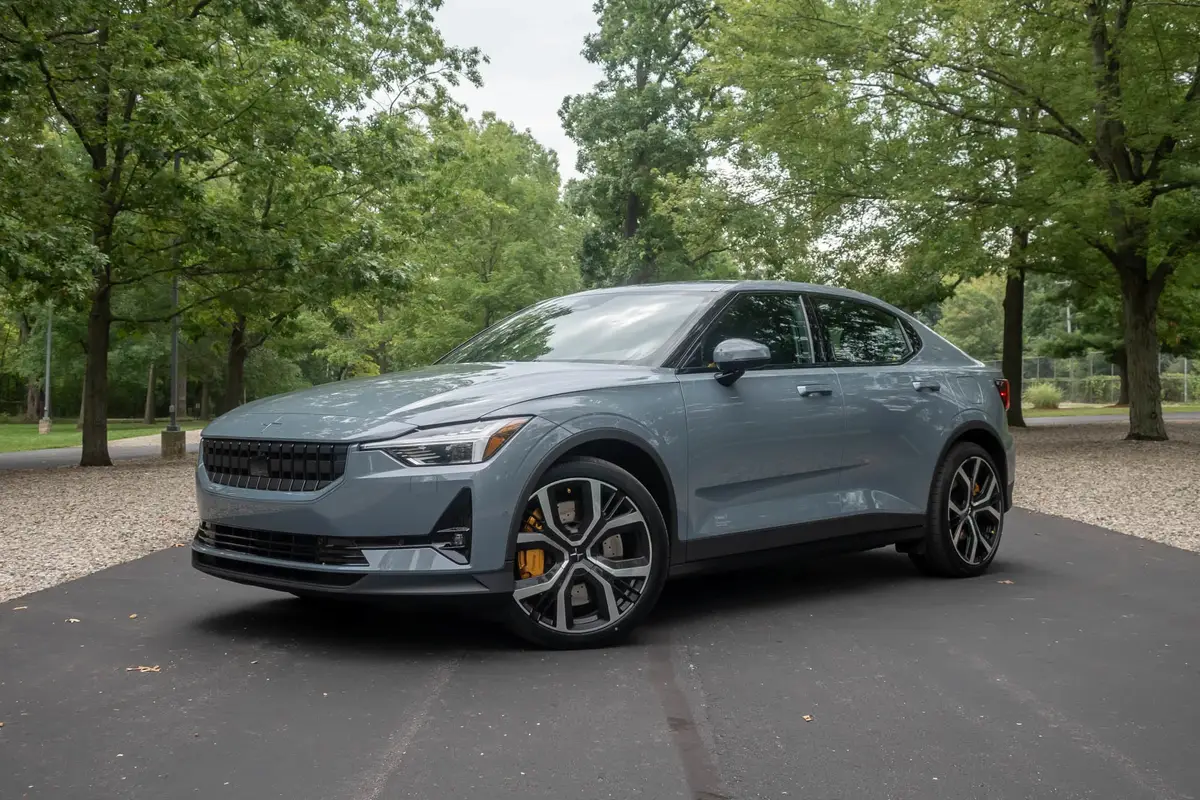 The look is definitely a departure from most of the rest of the segment. It's blockier than the Model 3 and less SUV-like than the Jaguar I-Pace or Audi E-Tron, despite the Polestar 2 having a four-door hatchback configuration. It sits a little higher than a traditional sports sedan but not as high as a new-style crossover; if you remember the old Subaru Outback sedan, that's the vibe it gives off. It's attractive in a spare, spartan Scandianavian aesthetic, which makes it stand out in its own way. Sadly, the visual interest does not extend to the paint color palette, which is a boring gradient between white and black; even my supposedly blue test car felt like just another variant of gray. Between the blocky styling and muted hues, the Polestar 2 feels practically invisible out on the road. Considering what the car can do, though, that might not be a bad thing.
Is This the Future of Sports Sedans?
Volvo builds some pretty spectacular sedans, so it's no surprise the Polestar 2 inherited a lot of what made Volvo's Polestar high-performance versions so fantastic. The new Polestar 2 is a legitimate electric sports sedan, especially when decked out with the optional Performance Pack my test vehicle had.
Before the options, though, it starts with the powertrain: a dual electric-motor setup powering the front and rear wheels independently, with rear bias. They produce 408 system horsepower and 400 pounds-feet of torque, good enough for a 0-60-mph time of less than 4.5 seconds, Polestar says. Being electric, the car's torque curve is formidable, meaning acceleration comes on in a massive, seamless rush when you plant your foot. Initial acceleration is fairly calm, however; it's not tuned to be jumpy, but rather efficient and laid back, delivering that quickness only when you've well and truly called for it. There's no sport setting or mode changing at all, just some different settings for regenerative braking aggressiveness and steering settings.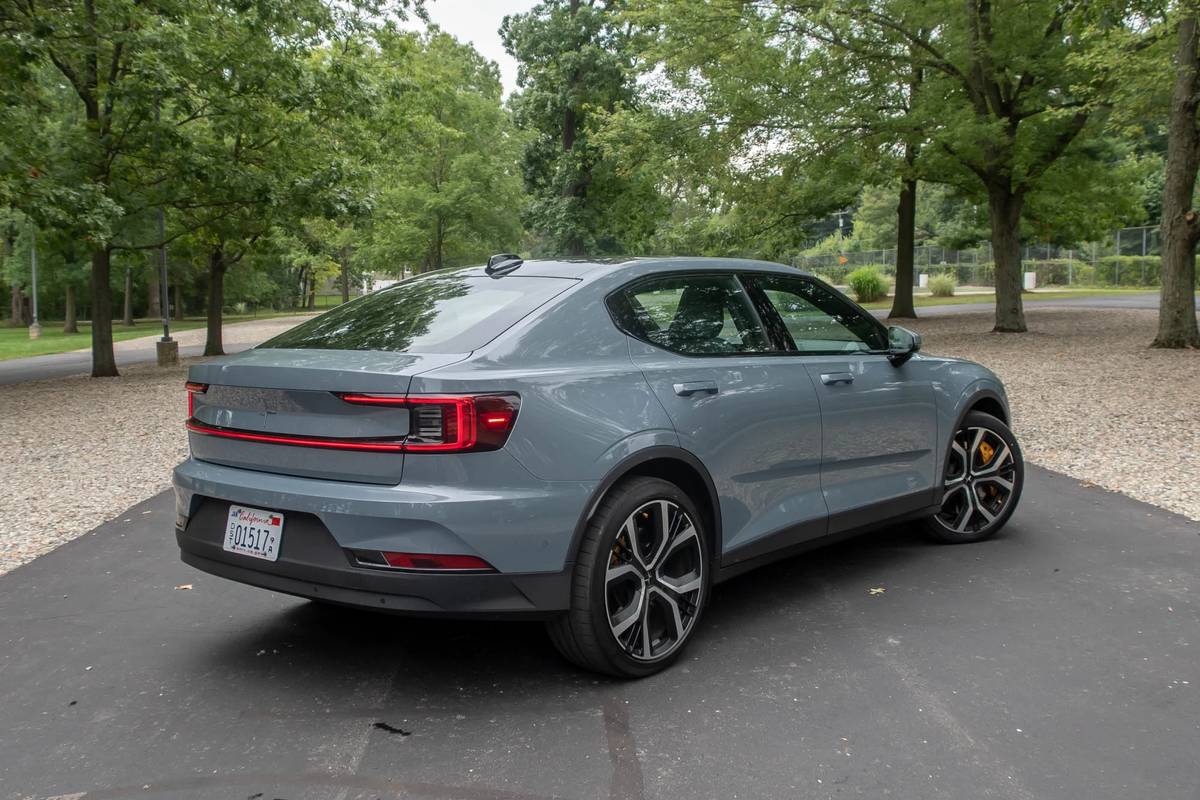 The Polestar 2's ride and handling is on the firm side of sporty, but it is adjustable — manually. The test vehicle I drove was equipped with the Performance Pack option, which includes 20-inch wheels, high-performance Brembo brakes and special Ohlins shock absorbers with 15 settings. My test car was set in the middle of the firmness scale, which I found to be too firm for everyday driving on Michigan's broken roads. If you live somewhere that takes care of its roads, it would likely be fine, but I would have cranked those dampers all the way over to their softest setting in order to make it tolerable. I would have had to do so manually, however, as they're not electronically adjustable — and I don't know many people who'd take the time to change their damper settings.
That said, the balance and ride quality of the Polestar 2 was impressive. It handles beautifully, with the electric steering assist easily switchable among three settings requiring light to strong effort. I kept it in the middle, which provided sufficient sportiness and control without sacrificing ease of use. I did the same for the three regenerative braking settings — the strongest is too strong and the lightest doesn't do anything, but the middle setting provided good balance. There was some accelerator liftoff regen activation, but it didn't impede rolling momentum too much. The upgraded brakes made quick work of bleeding off any extra, unwanted momentum, with a solid pedal and no fade in repeated stops during aggressive backroads driving.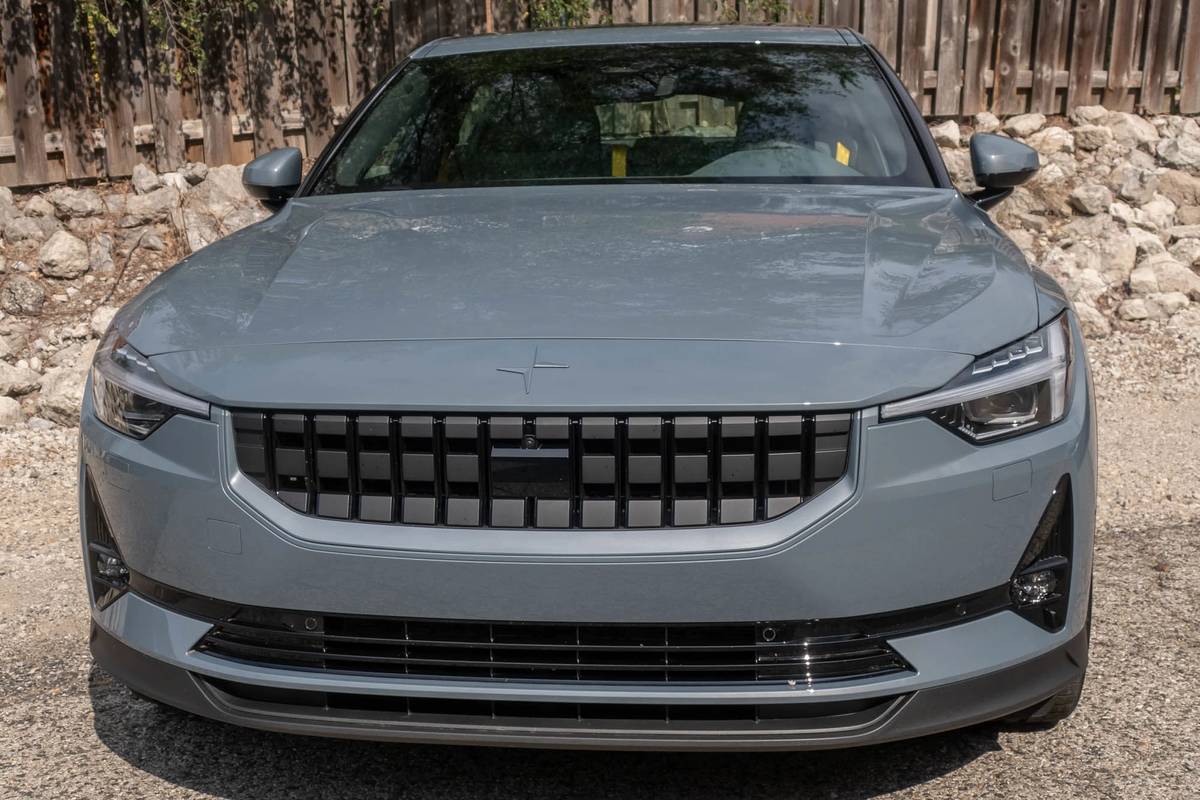 Driving the Polestar 2 is similar to driving any number of EVs: It's deceptively quick, able to blow past slower traffic with astonishing speed and next to no noise. Turns out, you don't need sound to make fury, and I surprised more than one doddering RV driver with a sudden, silent blast past their window. It's quick like the Tesla Model 3 and Jaguar I-Pace, but where the Polestar 2 delivers over other expensive EV experiences is in its chassis refinement. It truly feels like a premium European sports sedan, solid and unflappable, delivering a rewarding driving experience through the kind of feedback that's often missing in computerized EVs.
Electric Range: How Far Can It Go?
The battery itself is a 78-kilowatt-hour lithium-ion pack using LG Chem pouch-style cells. An EPA range rating was not yet available at publication time, but based on the European cycle — which tends to be considerably more optimistic than American testing methods — it's good for 291 miles on a full charge. In the interest of having some real-world numbers, Polestar commissioned an independent range test between two new Polestar 2s (a regular version and one with the Performance Pack and 20-inch wheels), a Tesla Model 3, a Jaguar I-Pace and an Audi E-Tron. Performed by a testing lab on a closed 3-mile oval course, all cars were charged and set to run at 70 mph, with the climate control at 72 degrees, until they could no longer maintain 70 mph. As expected, the Tesla Model 3 went farthest, at 234 miles. The two Polestar 2s were next best, with the regular Polestar 2 going 205 miles and the Performance Pack model going 197 miles (Polestar estimates the EPA range will come in around 250 miles). The Jaguar I-Pace came in next, at 188 miles, followed by the Audi E-Tron, which brought up the rear at 187 miles.
Swedish-Style Interior
The interior is perhaps the most obvious place where the Polestar 2 distinguishes itself from the Tesla Model 3. Like the E-Tron and I-Pace, it's a much more conventional layout, in keeping with traditional automotive design: There's a gauge cluster behind the steering wheel, dedicated buttons as well as touch-sensitive panel controls, and pleasing shapes that actually evoke some artistry. The Tesla is a tub with a central screen, but Polestar decided instead to maintain a more familiar setup — to good effect. It doesn't feature the warm colors and wood tones you'll find in a Volvo, but that's intentional; Polestar's aesthetic is cool and technological versus Volvo's warm and organic.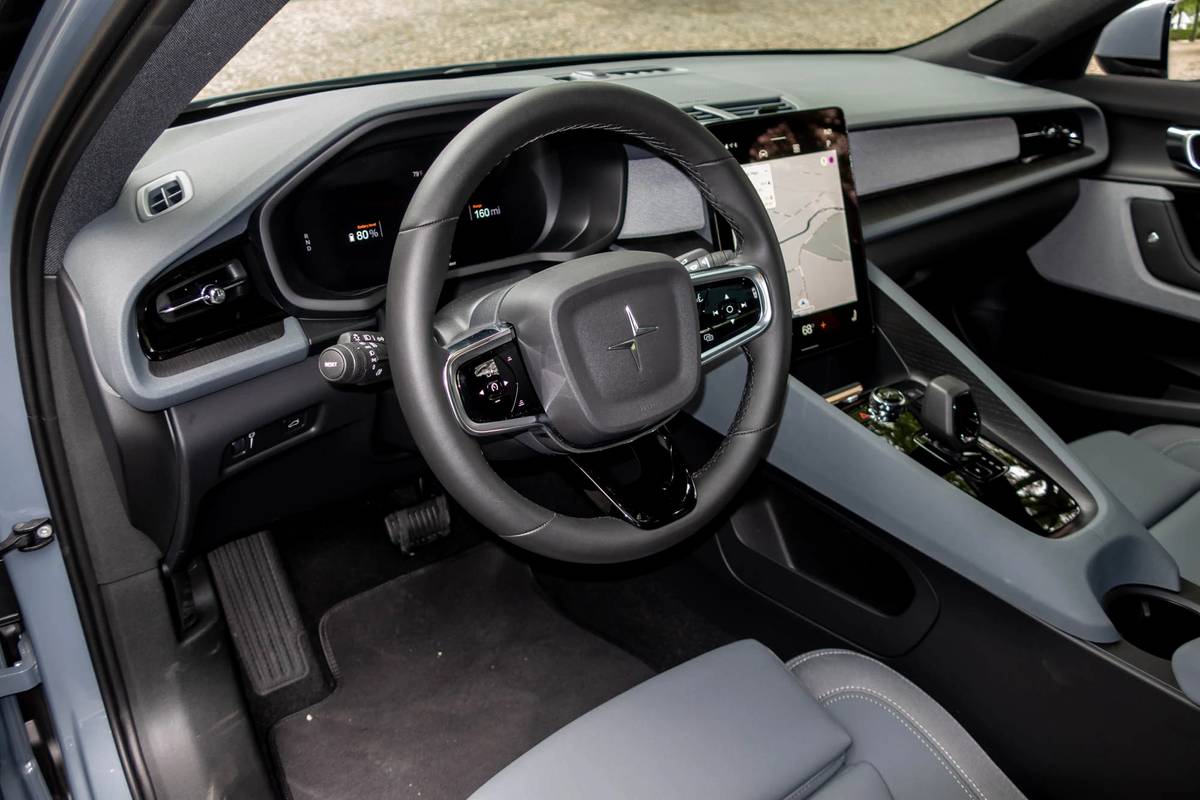 That said, while the interior looks considerably more attractive than anything from Tesla, it doesn't necessarily feel better. Some of the artistry doesn't work so well, like the tiny air vents atop the dashboard that barely articulate and the fact that nearly everything employs a fingerprint-magnet black touchscreen. And for the price, the interior appointments feel rather cheap. There's a good bit of hard plastic that feels thin and hollow when you knock on it. The environmentally friendly, vegan "WeaveTech" fabric on the seats (leather is optional) feels like chintzy wetsuit material, not something I'd expect on a car I'm paying more than $70,000 to drive. And sadly, the colors inside are just as drab as the colors outside unless you get the expensive leather option, which enables you to specify tan upholstery instead of gray or black.
Front-seat comfort is good even if the seats do feel a little flat. The rear seats are less comfortable, with tight legroom and headroom despite the Polestar 2's fairly upright roofline. The car looks bigger in photos than it actually is; you're reminded it's based on the Volvo XC40 subcompact SUV when you're inside it. You don't exactly sit low in the Polestar, but it still has the feeling of sitting in a tub thanks to squat windows and a high beltline. Outward visibility, however, isn't bad — even through the rear window, thanks to a cutout in the rear roof that allows you to see farther down the road than you otherwise could. There's a standard glass roof overhead, but it doesn't have a shade, just some UV protection and tinting. Overall, it feels about as spacious for occupants as a Jaguar I-Pace, but less so than a Tesla Model 3 or the much larger Audi E-Tron.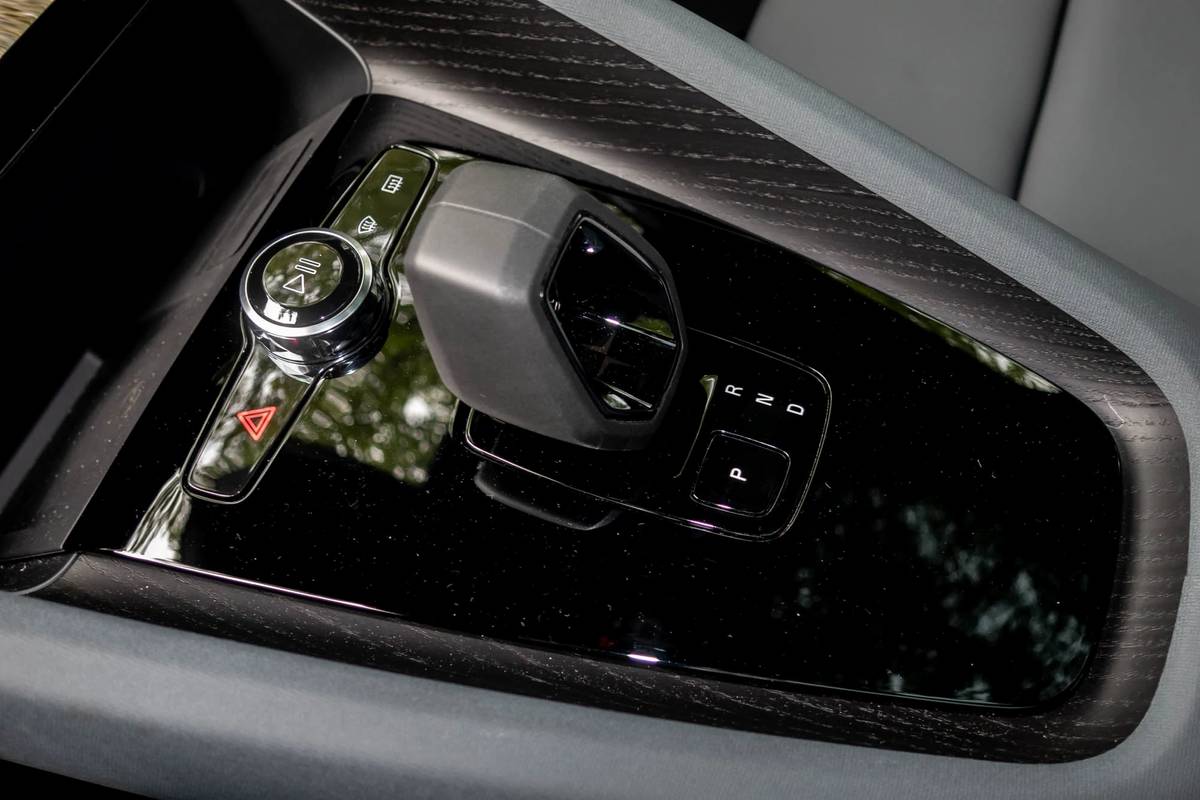 Google on Board
The Polestar 2 has the unique distinction of being the first production automobile to use the full Google Android Automotive operating system, meaning the entire central display — which controls not only the multimedia system but also vehicle systems like climate control, settings and others — uses software developed by Google. Why? Because it's cheaper and easier for a low-volume vehicle, Polestar says. Developing a new interface, multimedia system and unique native apps to handle things like navigation and audio systems is expensive, especially when you don't plan on making hundreds of thousands of cars to spread the cost around. The Polestar's system allows you to share between personal Google accounts and the car, enabling downloads of media and apps from the Google Play store to the vehicle itself. Preferences can be shared between driver accounts and the car, or you can create an account specifically for the car — or you can not sign in at all and just use the systems the car comes with if you'd rather not share all your information with anyone who might use the car without you in it.
Thankfully, the Google system works quite well; the central display is huge and easy to use on the go, featuring quick navigation between screens, easy-to-find controls and a minimum number of menus to scroll through to find the appropriate controls. Certain features still have dedicated buttons, but they're very few; Polestar instead dedicates space on the big tablet-style screen for functions like climate control. Color contrast is good, as are speed and responsiveness, and I had no complaints about the tablet-style controls aside from the typical gripes about lack of feedback from flatscreen "buttons" that simply don't feel luxurious.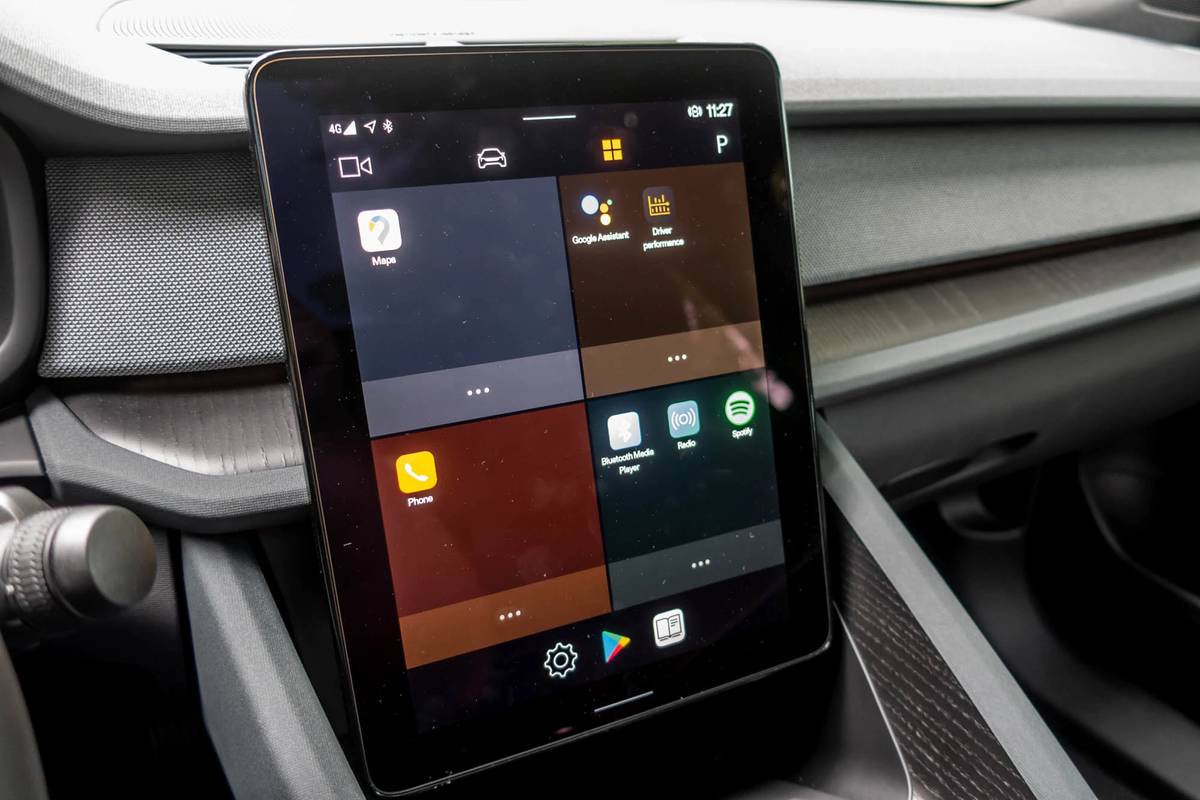 The central gauge cluster is also digital and reconfigurable. It's not as easy to read as the big tablet display, but it can also display navigation and map information. What it oddly does not display is any audio system information, so unless you have the audio screen up on the central tablet display, there's no way to know what radio station you're listening to or what song is playing. It's a curious omission from a digital screen given just about every other manufacturer features it in their partial or fully digital instrument panels.
Price May Be a Problem
Full pricing for the American version of the Polestar 2 has not yet been announced, and seeing as how only the Launch Edition is for sale for the 2020 model year (lesser trim levels will come for 2021) and it's already largely sold out, it may not matter much. That said, the base price for a 2020 Polestar 2 is $61,200 (all pricing includes destination fee). That includes two feature bundles that will be broken out into option packages for lesser trims in the future: the Pilot and Plus packages. Pilot includes adaptive cruise control, blind spot warning, rear collision warning and mitigation, forward collision warning, lane keep assist, parking assist and more. Plus includes the panoramic glass roof, pixel LED headlights, heated wiper blades and steering wheel, heated front and rear seats, Harman Kardon premium audio and a few other interior goodies.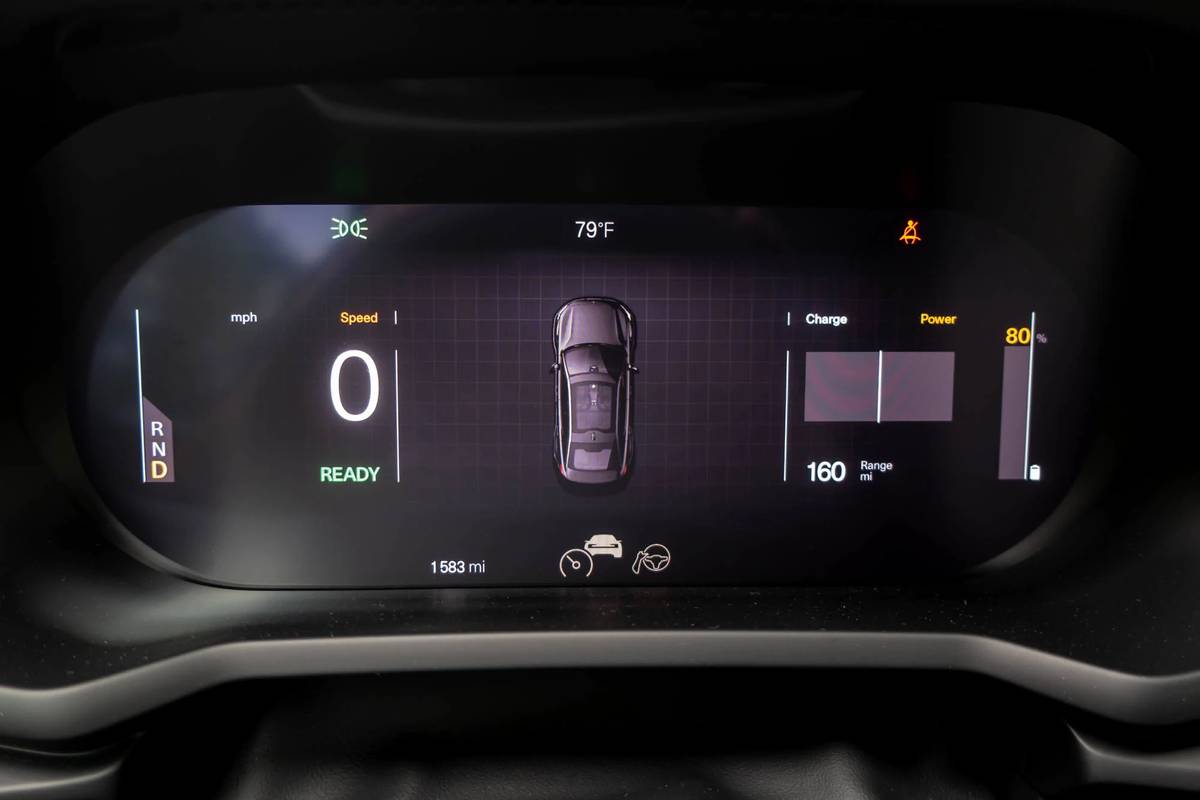 You can also add the Performance Package with its sporting equipment for $5,000, while a leather interior is another $4,000 option. If you load the Polestar 2 up with every conceivable option, you're looking at more than $72,000. My test car did not have leather, but it still stickered at a lofty $67,550. You can drop that a little bit, though, because Polestar qualifies for a federal $7,500 tax credit, and some states and localities still offer tax rebates and incentives for purchasing an electric vehicle.
Part of the Polestar's high price is due to American import tariffs on Chinese-made vehicles — to the tune of 25% at the time of this writing. That's one thing the California-built Tesla Model 3 doesn't have to worry about, and its starting price is $36,200. Even a Model 3 Performance trim, which is a better match for the Polestar 2, starts at $56,190 — thousands of dollars less than the Polestar. Note, however, that Teslas are no longer eligible for a federal tax credit, as the company's allotment has been exhausted. Base trim levels of the Audi E-Tron and Jaguar I-Pace match up better with the Polestar, with starting prices between $67,000 and $71,000, respectively.
Polestar has created an interesting competitor for other luxury EVs on the market. It has a decidedly sporty bent to it, and it's genuinely entertaining to drive. Its interior quality won't thrill anyone coming out of an Audi, Jaguar or Mercedes-Benz, but it's a notable step up from what Tesla offers. If not for the cringeworthy pricing, it would be more of a slam dunk choice versus the likes of the American Tesla; as it stands, however, it's merely a solid, stylish alternative.