1991 American Performance Sedan Comparison Photos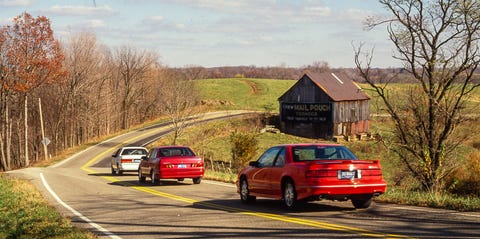 Mark PrestonCar and Driver
The Ford Taurus SHO is the perennial winner in domestic sedan comparos. But Chevy and Dodge have new competition for Ford's Yamaha-engined sleeper, in the form of the Lumina Z34 and Spirit R/T. Both bring manual transmissions and more than 200 horsepower, just like the Taurus, but their approaches are decidedly different—3.4-liter V-6 for the Lumina, 2.2-liter turbo four for the Spirit. Can either one dethrone the champ? We take to the twisties in Southeastern Ohio to find out.
Read the Full Review
1 of 16
It's red, white and… red at Hoover's Country Kitchen.
2 of 16
Besides being unable to score a blue car, we couldn't get a four-door Lumina, either. But: close enough.
3 of 16
The Lumina is the most outrageous, the Taurus the most low-key, and the Spirit the most K-car of the trio.
4 of 16
The Lumina's 3.4-liter V-6 makes 210 horsepower, but only with the 5-speed. Automatic cars are detuned to 200 horsepower.
5 of 16
The Spirit ran 0 to 60 mph in 5.8 seconds, quicker than a Nissan 300ZX Turbo.
6 of 16
Unfortunately, the rest of the Spirit isn't on the level of its 224-horsepower engine.
7 of 16
On back roads, the Spirit had a hard time keeping up, despite its advantage in straight-line speed.
8 of 16
The Dodge 2.2-liter four delivers 224 horsepower and 217 pound-feet of torque.
9 of 16
The Spirit interior looks like it belongs to the least-expensive car here. Fortunately, it does. A/C is standard, though.
10 of 16
The Z34 isn't shy about its performance aspirations.
11 of 16
In a happy surprise, the Lumina's excellent handling doesn't come with a terrible ride.
12 of 16
The 3.4-liter DOHC V-6 makes 210 horsepower and some nice noises.
13 of 16
The lack of an airbag is a demerit and the Z34's interior pieces looked and felt cheap.
14 of 16
There it is, the best front-drive American sport sedan.
15 of 16
The Taurus SHO interior evokes more-expensive European sedans.
16 of 16
Best-looking intake ever? The Taurus' 3.0 V-6 has a case.
Advertisement – Continue Reading Below
This content is created and maintained by a third party, and imported onto this page to help users provide their email addresses. You may be able to find more information about this and similar content at piano.io