1983 Subaru GL 4WD Turbo Wagon Photos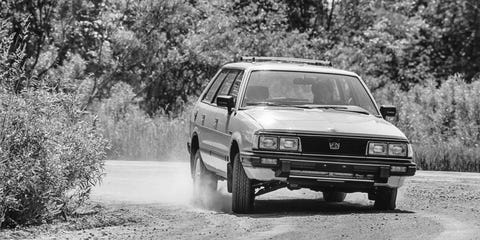 David DewhurstCar and Driver
The Subaru GL 4WD wagon with the "Turbo-Traction" powertrain gets fuel injection and a turbocharger, raising output from 71 horsepower to 95 horsepower. With a three-speed automatic transmission (the only option) 0-60 drops to 13.7 seconds. Which won't threaten any Audi Quattros, but the Subaru also costs a lot less. And it's still quicker than its main rival, the 4WD Toyota Tercel wagon.
read the full review
1 of 19
As the mud flaps tell you, the GL Turbo is four-wheel-drive.
2 of 19
Behind the Subaru logo on the grille is a hidden fifth headlight behind a power-operated door.
3 of 19
The white steel wheels and raised white-letter tires look like they belong on a truck rather than a family wagon.
4 of 19
Our test car was fortunately free of the US Ski Team livery.
5 of 19
The "Turbo-Traction" powertrain raises the 1.8-liter flat four's output from 71 horsepower and 93 pound-feet of torque to 95 horsepower and 123 pound-feet.
6 of 19
The Turbo's 50-70 mpg time is 11.6 seconds, which is quick compared to the Toyota Tercel 4WD wagon's 28.8 seconds.
7 of 19
The 185/70/13 Bridgestone mud and snow tires are happier on dirt than on pavement.
8 of 19
Four-wheel-drive is engaged with a button rather than the lever found on manual models (which also feature low range).
9 of 19
Doing 0-60 mph in 13.7 seconds isn't quick, but it's a big improvement over the naturally aspirated car's 17 second or so time.
10 of 19
Peak boost is a modest seven psi.
11 of 19
The GL Turbo actually has the power to haul extra cargo.
12 of 19
Lighter alloy wheels are optional.
13 of 19
The GL Turbo earns an EPA rating of 24 mpg city, and 30 mpg highway.
14 of 19
In case you were wondering, this is the Turbo.
15 of 19
A digital dash seems out of place in an otherwise unpretentious interior.
16 of 19
The flat four is compact enough to allow spare tire storage under the hood.
17 of 19
The turbo is only available with a three-speed automatic.
18 of 19
The rear seat folds forward to extend the cargo bay.
19 of 19
A button on the shifter engages four-wheel-drive.
Advertisement – Continue Reading Below
This content is created and maintained by a third party, and imported onto this page to help users provide their email addresses. You may be able to find more information about this and similar content at piano.io