11 Greatest Nissan Z Commercials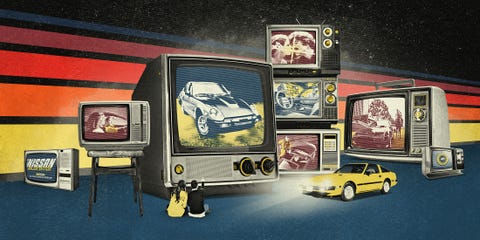 Ryan OlbryshCar and Driver
The next-generation Nissan Z is coming, and we're excited for a new rear-drive twin-turbo manual-transmission sports car. The Z makes us remember when the hottest red and blue debate on television was between glass bottles instead of old men, and when marketing teams couldn't build it in Photoshop with computer-generated cars. Datsun and Nissan advertised their sports car through a natural lens, and they built cars sharp enough to stop the paperboy's bike in its tracks. (In case you missed it, we've also put together a collection of some of our favorite characters from car commercials.) Here are some of the most unforgettable Z-car commercials through the years:
All the Trimmings | Datsun 240Z
The simplicity of the early Z-car was a key to its success. Datsun didn't need to reinvent the wheel; it just needed to use what was out there already and better than anyone else. Disc brakes, MacPherson struts, and an independent rear suspension gave it the moves John Morton needed to earn SCCA C-Production national championships in 1970 and 1971.
Black Gold | Datsun 280ZX
The 10th Anniversary Datsun 280ZX was a limited-production model stuffed with parts from a Special Edition option package. Two-tone paint, tinted T-top glass, gold or black wheels, and commemorative wreath designs with a placard stuck to the dash were added. Only 3000 of these anniversary editions were built, 500 of which were Black Red instead of Black Gold.
Teenage Dreams | Datsun 280ZX
Car people know this scene all too well. Someone in your neighborhood drives something really good, like this Datsun 280ZX Turbo, and you can't help but break routine to stop and admire. The 1982 Datsun 280ZX shown here brought improvements like rack-and-pinion power steering and a revised suspension. Fortunately for the paperboy, the Z-car would get quicker and safer in only a few years. That kid had to have gone crazy when he saw the next-generation Z's pop-up headlights and digital gauge cluster.
Woz Loves It | Datsun 280ZX
Steve Wozniak is on the run in this commercial because he was kind of busy in the early 1980s. He and Steve Jobs shared a love of electronics and had begun building Apple computers. Silicon Valley had just started to snowball into a tech-rich environment, and just like the Z, the U.S. was increasingly relying on computers. Woz leaves with his big smile and a Z-car the same color as Jobs's mock turtleneck.
Flying Engines | Nissan 300ZX
The third-generation Z hit U.S. shores running, with a 160-hp 3.0-liter V-6 and a 200-hp turbo version in 1984 models. For the first time in the United States, the Z wouldn't use an inline-six engine. Outside the U.S. it was known as the Fairlady Z, with an optional puny 170-hp 2.0-liter turbocharged V-6, among other engines. Both engines were part of Nissan's PLASMA series, an acronym for Powerful & Economic, Light, Accurate, Silent, Mighty, Advanced. Nissan's new engine was 39 pounds lighter than the 2.8-liter inline-six it replaced, and they wanted to burn up a couple of buzzwords. The idea of an automaker filming and masking out their engines floating behind one of their new cars was new. Adding the Thompson Twins' "Love on Your Side" completed the 1980s feel.
Speeding Ticket | Nissan 300ZX Turbo
By the mid-'80s, the Nissan 300ZX was getting a lot of time onscreen, appearing in television shows including Miami Vice and Magnum P.I. In 1984 and 1985, the 300ZX Turbo was the only way to get five-lug wheels on your Nissan sports car, and it also wore a hood scoop and totally rad graphics (among other visual cues). It's unlikely a mounted police officer would give you a speeding ticket, for obvious reasons, but it makes a fun story line for the commercial.
Turbo-Lag Dreams | Nissan 300ZX Twin Turbo
Nissan's Turbo Dreams ad was the biggest play during Super Bowl XXIV, when the San Francisco 49ers destroyed the Denver Broncos, 55–10. The commercial was directed by Ridley Scott, director of science-fiction films such as Alien, Blade Runner, and, more recently, The Martian. The new 300ZX was a big deal, and it won our comparison test against the Chevrolet Corvette. This ad was later removed after critics convinced Nissan it promoted reckless driving. The jump at the end was real, but a few years ago it was discovered the car used was naturally aspirated with twin-turbo cosmetics after it was listed on eBay and later Craigslist. That's movie magic.
Sorry, Kenny | Nissan 300ZX
This 60-second ad might look like it features a big green plastic dinosaur, Barbie, Ken, and G.I. Joe, but Nissan's lawyers promise this commercial, which aired a few months after Pixar's Toy Story was released, is just one enormous coincidence. Mattel, maker of Barbie, sued the automaker in 1997 for "irreparable injury to Mattel's name, business reputation, and goodwill" and later settled out of court. Nissan insisted the toys were modeled after real actors named Roxanne, Nick, and Tad. Sure. It's still an awesome commercial, and Van Halen's cover of "You Really Got Me Now" perfectly fits this fairy tale.
Fast Forward | Nissan 350Z
We've fallen into more rabbit holes on YouTube than we'll ever reveal on our time card, but this ad campaign in Canada was worth the trip. It's a time lapse that doesn't just illustrate the evolution of an iconic sports car, but also the world changing around it. Every generation is included, even the often forgotten and heavily refreshed 1987–1989 300ZX. The first kid who approaches the 240Z is wearing similar clothes to the paperboy from the 280ZX commercial. We'd like to think his someday finally happened after Carlos Ghosn became CEO of Nissan and brought the Z back for its fifth generation, in 2002, as a 350Z.
Dad Can Fix That | Nissan 370Z
Nissan stuffed a big engine into the sixth-generation Z-car. The 240Z came to the U.S. with a 2.4-liter inline-six, but after 40 years in America its belly grew to a 332-hp 3.7-liter V-6, and so did its price. It was 0.3 second quicker to 60 mph than the 350Z it replaced and barely slower than the $58,040 Porsche Cayman S we tested that same year. The 290-hp Maxima, with a smaller V-6, wasn't far off, either, with a zero-to-60-mph time of 5.8 seconds. And that was with four doors and a continuously variable automatic transmission (CVT). Neither car made our list of total Dad cars.
Some See a Letter | Nissan 370Z
This catchy robotic jingle is a dull hypnosis that few sports-car fans fell into. Sales of the Nissan 370Z never reached above 11,000 units per year in the United States, and the sixth generation stuck around so long it celebrated both 40th- and 50th-anniversary editions. If you're looking for a car that still offers an AM/FM radio and a CD player in place of Apple CarPlay and Android Auto in 2020, the 370Z is still alive. Nissan sold 3302 of its 12-year-old Z in all of 2019.
This content is created and maintained by a third party, and imported onto this page to help users provide their email addresses. You may be able to find more information about this and similar content at piano.io