10 Prime Day Deals on Things for Your Car's Trunk This Winter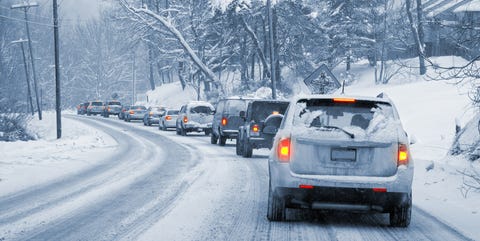 njw1224Getty Images
Use Amazon's Prime Day for deals on gear that can help protect you during winter months behind the wheel.
Ordering and stocking up now will save money and reduce the chance that stores may be out of these items when the first snowfall arrives.
Prime Day is two days this year: October 13 and 14.
While Amazon's Prime Day savings extravaganza is typically a way fun way to shop for gifts for friends and family or to treat yourself from the comfort of your home computer, it's also an opportunity to stock up on supplies for your car. With winter comes inclement weather, and that can make driving difficult. Slick roads, reduced visibility, shorter days, and drivers more concerned about which store to hit up next than the task at hand can all make for a dangerous environment.
We have selected 10 items on sale during Amazon's Prime Day, October 13–14, to help you be prepared if your car breaks down or you're stranded by an accident or bad roads. The deals range from a safety tool to a mobile battery jump starter, so get these items off your wish list and into your trunk. Be safe out there.
Advertisement – Continue Reading Below
Emergency Weather Crank Radio
A hand-crank emergency radio keeps you informed without the need for batteries. It'll also charge your phone and has a built-in flashlight.  
AstroAI Air Compressor
A mobile air compressor might not fix a flat, but it can get you back on the road and closer to the next service station. It's powered by the 12-volt cigarette lighter port. 
NOCO Boost Plus GB40 Jump Starter
A mobile battery jump starter makes quick work of a dead battery. Now instead of hoping someone comes by and helps restart your car, you can do it yourself and get back on the road. 
Electric Car Blanket
The electric blanket is powered by your car's 12-volt cigarette lighter port. This is great for keeping you warm if you get stuck waiting for a tow truck when it's cold outside. 
Emergency Tool Kit with LED Flashlight
An all-in-one emergency tool kit can bust a window, charge your phone, and be used as a light, all without the need to charge it thanks to the hand crank. 
Rechargeable LED Camping Lantern
This rechargeable LED camping light can be powered by either rechargeable batteries or a backup batteries. Plus, it includes two hand-held flashlights built right in. Being able to see a problem is sometimes half the battle. 
JACO Deluxe Tire Pressure Gauge
A tire pressure gauge can help you determine if you're experiencing a problem or if everything is good to go. It's always a good idea to check your pressure before a long drive.  
Compact First Aid Kit
Accidents happen, and big or small it's helpful to have a first aid kit. 
Roadside Assistance Emergency Kit
A roadside emergency kit has nearly everything you need if things go south. Tools, reflective triangle, window-breaking tool, whistle, and jumper cables. It's the ultimate preparedness kit. 
AstroAI Snow Brush and Detachable Ice Scraper
An ice scraper is a common sight in cars based in snowy regions. But if you're traveling to one of those locations from warmer climes, you might have overlooked this important tool. Pick one up now so you can see later.  
This content is created and maintained by a third party, and imported onto this page to help users provide their email addresses. You may be able to find more information about this and similar content at piano.io
Advertisement – Continue Reading Below